Mobile services
Where, when and how you want
Log in from your smartphone or tablet by using your password, 2-step verification, Apple® Touch ID or Face ID, or Google'sTM biometric authentication. The app is free1, easy and secure2. Certain features are also available on Apple Watch and Wear OS.
Get notifications when you need them
Avoid hassles and extra fees by turning on notifications.
Insufficient funds
Notifies you when the funds in your everyday account are insufficient to make a pre-authorized payment
Minimum balance reached
Notifies you when an account balance reaches a specified minimum amount.
Credit limit approaching
Notifies you when the amount available on your card dips below a certain amount.
Payment due
Notifies you when the due date of your last statement is approaching and the minimum payment on your card has not yet been received.
Make your access even more secure
Security alerts
Protect your identity and bank accounts even more by receiving alerts in case of a suspicious login to your AccèsD account or unusual activity on your credit card.
Learn more about security alerts
2-step verification
2-step verification provides an extra layer of security for your account. It protects your account using your password and a single-use security code that's sent to you in the mobile app or by text message or phone call.
Find out how to register for direct deposit. It's fast and easy.
No more trips to the ATM or caisse. Find out how to deposit cheques using the mobile app.
Bill payments at your fingertips
Find out how to pay your bills, for now or later, using the mobile app.
Keep an eye on your finances
Check your account balances and scheduled transactions or change plans at any time.
See all your home and auto information at a glance
You'll find all your home-related loans, insurance, quotes, tips and tools under Home and your auto-related information under Vehicles.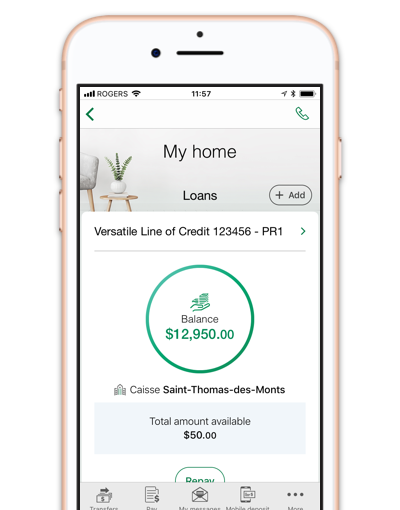 Pay bills on the go
Add payees and pay bills whenever you want.
Stay on budget
With the My budget tool, get an accurate picture of your income and expenses and set limits per category.
Save and reach your goals
Use Savings goals to set money aside to reach your goals. Track your progress at a glance and set up automatic transfers to take the work out of saving.
Manage cards, loans and lines of credit
Apply for credit cards, make loan, Accord-D and line-of-credit payments and get cash advances.
If your credit card has been lost, stolen or just temporarily misplaced, you can use the Lock card feature to block it from being used until you find it or get a new one. If you find your card, it's easy to reactivate it yourself with just one tap.
Get the Desjardins Mobile Services app
Update or download free mobile apps for Apple® and Android™ products.
Have questions or plans? We're here to help!
Contact your advisor using our secure message box or find a point of service near you to meet with us.
Montreal area:
514-CAISSES (514-224-7737)
Elsewhere in Quebec, Canada and the US:
1-800-CAISSES (1-800-224-7737)
We want to hear from you
If you have ideas for Desjardins mobile services, write us! - This link will open in a new window.
® Interac e-Transfer is a registered trademark of Interac Corp. Used under licence.
® Apple is a registered trademark of Apple Inc.
® Android is a trademark of Google Inc.
There are no additional fees for using Desjardins mobile services. The same fees for

AccèsD

Internet cover your activity on the

AccèsD mobile

site, whether you have a fixed monthly plan, or if you pay for each transaction separately. Ask your mobile service provider if you have questions about your data plan.
Desjardins transaction sites optimized for mobile devices that require authentication are secure and offer the same security and protection as full sites, such as data encryption and security questions.
Daily and monthly limits may apply. The limit will be displayed during the deposit.
Maximum of $5,000 can be transferred over a 24-hour period. Minimum amount: $0.01. No fee if you have a plan and are within your plan's transaction limit. No fee for the recipient.