Capital markets
Benefit from the expertise of our specialists to accelerate your growth. Wherever you are, we offer personalized support.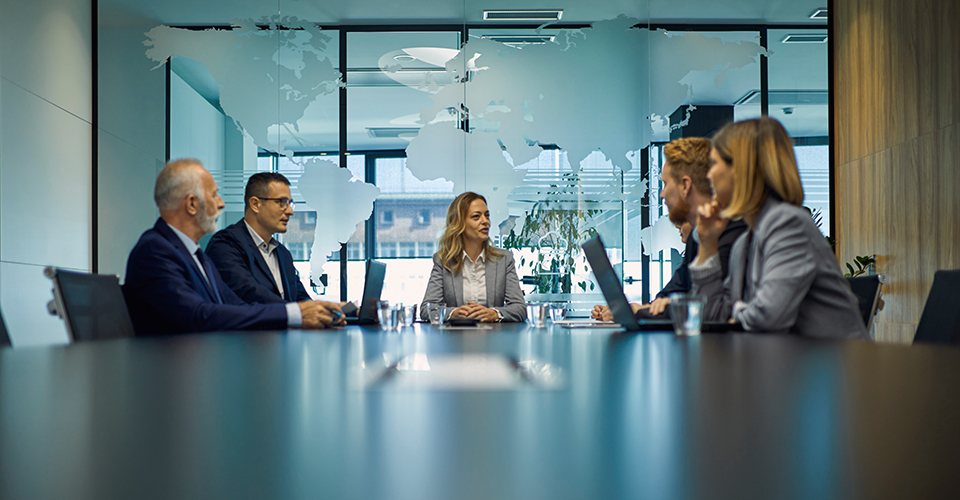 Why choose Desjardins Capital Markets
Our fully integrated approach aligns our broad research, sales force and expert negotiation capabilities with experienced corporate and investment banking teams and our extensive retail network. The following figures clearly show the expertise of our analysts and the trust our partners place in us.
$120+ billion Over one hundred twenty billion dollars in financing obtained since 2015
6th largest fixed-income security trader in Canada
$125 million ESG swap for the Paintearth Wind Project
Here are some transactions that show the scope of our abilities and the added value we bring to our corporate, public and institutional clients.
Caisse de dépôt et placement du Québec$1.5 billion
Co-lead arranger in green bonds
Couche-Tard$4.3 billion
Joint bookrunner
Guardian Capital Group Limited$750 million
Acquisition financial advisor
Our services and expertise
Thanks to our personalized approach, you'll benefit from direct access to our trusted collaborators and a wide range of products and services tailored to your needs.
Our in-depth market knowledge and industry experience are important factors that allow us to build strong relationships. Our expertise includes specialized services such as:
Bond issuers advisory services (Debt Capital Market)
Private and public equity transactions (Equity Market)
Merger and acquisition support
Private equity placement
We also play a leading role in many preferred share issues. Since 2002, we have co-managed more than $67 billion of preferred share underwritings.
Whether you need to finance a project, manage your cash flow, or develop your business globally, our team of experts offers flexible and creative solutions.
Our track record and top-notch credit rating allow us to fully support your business strategy rollout.
We are a leader in private and public infrastructure financing in Canada, thanks to our mastery of complex issues and our ability to support large-scale projects.
As a Canadian leader in fixed-income securities, we advise several bond issuers and offer turnkey solutions to a variety of investors, including over 250 institutional investors.
Our strength in equity sales and negotiations lies in a personalized approach, concrete strategic plans and the ability to maintain liquidity on the stock market. We strive to maintain a growing network of businesses that wish to invest or issue shares and we manage over 300 active institutional accounts worldwide.
We also offer innovative solutions and adapt to changing realities (derivatives, FX, swaps, etc.).
Economic research and studies

Our specialists' global studies help us analyze the economic context and its impact on markets.
Our research services focus on fundamental analysis of relevant companies and industries to help you make the best possible decision.
Our team consists of approximately 15 experienced analysts who regularly publish their reports with the most up-to-date information.
See our publications (a password is required)
About Desjardins Capital Markets

Desjardins Capital Markets is part of Desjardins Group, the largest cooperative financial group in Canada with more than $389 billion in assets. We are among the best capitalized and most secure financial institutions in the world with a Tier 1 capital ratio of 21.4%. Our credit rating is one of the best in the Canadian banking sector:
Moody's Aa1
Standard & Poor's A+
Dominion Bond Rating Service (DBRS) AA
With offices located in Montreal, Toronto, Calgary and Vancouver, we are able to efficiently provide comprehensive and integrated solutions to meet your needs wherever you are.
We also have privileged access to international markets thanks to our exclusive agreement with European brokerage firms (European Securities Network) who deal with over 1,000 institutional investors in Europe.
Executive Managing Director
Co-Head of Capital Markets and Head of Investment Banking
An investment banker since 1999, François Carrier joined Desjardins Capital Markets in 2011 as Managing Director, Investment Banking. He focuses on small, mid and large capitalization companies, in both private and public sectors. He advises issuers in the context of initial public offerings, new issues, private placements and merger and acquisition activities in Canada, the United States and Europe.
Business Services and Corporate Banking
Mathieu Talbot is Vice President, Business Services Group and Corporate Banking. He's in charge of the business development and portfolio management activities for Desjardins's corporate and commercial banking sectors, which covers small businesses as well as Capital Markets clients across Canada and in certain regions of the United States. The teams under his leadership includes Corporate Banking, National Accounts, Real Estate Financing Group, Loan Syndication, Institutional Financing, in addition to supporting the structuring side of Desjardins's entire commercial banking sector. He also spearheads the newly created Sustainable Financing Group, Tech and Innovation Group and a specialized agriculture team.
Head of Institutional Equities
Frédéric Girard joined Desjardins Capital Markets in 2019 as Managing Director. After working for Goldman Sachs in New York in global equity sales and trading, he joined the National Bank of Canada as the lead of equity trading for institutional clients. He has extensive knowledge of North American equity markets from both an investment and issuing perspective.
Head of Fixed Income Group
In 2010, after holding several roles at Goldman Sachs, TD Securities and HSBC, Pierre Morin joined Desjardins Capital Markets once again after previously working there for 10 years. As Senior Director and Head of the Fixed Income Group, he now oversees the trading, institutional sales, preferred share, financing, and futures and options teams.
Bill Cabel joined Desjardins Capital Markets in 2014 after working at Stifel Nicolaus, Jacob Securities and TD Newcrest in equity research and then as head of research. Bill holds a BSc in life sciences and an MSc in neuroscience from Queen's University and an MBA in finance and accounting from the Schulich School of Business.
Danny Charette has been Managing Director and Head of Operations at Desjardins Capital Markets since January 2022. He sits on the management committee of Desjardins Securities and the board of directors of Desjardins Securities International, of which he is also CFO. Before joining Desjardins in 2006, he held various positions in accounting and financial management in large-scale companies in Canada and Europe. He holds a bachelor's degree in accounting and an MBA in finance and accounting.
Head of Origination and Syndication
Ryan joined Desjardins Securities in 2008 and has over 15 years of experience in managing debt capital markets transactions for Canadian and international borrowers. Previously, he was with HSBC in debt capital markets and investment banking. Ryan's extensive experience in capital markets includes lead management roles for large government, financial, corporate, infrastructure and Maple borrowers. He is a graduate of the Richard Ivey School of Business.
Sustainable development is our top priority and we wish to accelerate the transition to an economy that is more respectful of the environment and those inhabiting it. This is why we are committed to responsible finance by offering products that take into account environmental, social and governance (ESG) factors, while managing and selecting securities for our portfolios.
We're here to help you no matter your development stage.
Monday to Friday: 9 AM to 5 PM