Modulo Visa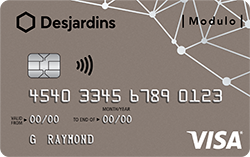 The satisfaction of a low rate, the joy of rewarding yourself
Interest rate

10,9

Annual fee

$50

Rewards program

1%

of your purchases in BONUSDOLLARS®
Calculate your interest savings over 12 months with the Modulo Visa card
The card you have now offers more
savings than the Modulo card. Enter a rate below 35% Enter a valid interest rate.
%
Enter a valid amount
(less than $1,000,000). Enter a valid amount.
$
Credit card features you'll like the most
Low interest rate

Enjoy a low fixed annual interest rate on all your purchases and cash advances.
Additional card features
Additional card for a family member for only $10
More information
Compare credit cards

Compare this card and see if it's the right one for you.
Partner offers
Hertz discount
Up to 15% off your car rental at Hertz.
Get this offer

– Hertz offer - This link will open in a new window.
Annual fee and fixed annual interest rate are subject to change without prior notice.
® BONUSDOLLARS, Modulo and Odyssey are registered trademarks of Fédération des caisses Desjardins du Québec.
Interest savings are shown for information purposes only and do not take into account monthly compounded interest, payments, additional purchases, annual fees, options or other specific factors.