Odyssey Visa Infinite Privilege credit card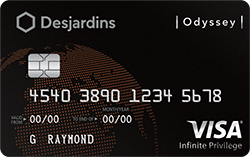 A low rate travel credit card
Low interest rate

9.9%

Annual fees

$295 (members) $395 (non-members)

Required minimum annual income

$200,000
There are new ways to earn Bonusdollars1 more quickly when you make purchases in the following categories:
Restaurants (4%)
Entertainment (4%)
Public transportation (4%)
Groceries (3%)
Travel (3%)
All other purchases (1.75%)
More ways to use your Bonusdollars
Now you can redeem your Bonusdollars on restaurants, entertainment and public transportation.
Get this credit card
Credit card benefits
You also get
Compare credit cards

Compare this card and see if it's the right one for you.
Partner offer
Get up to 25% off your Hertz car rental anywhere in the world
Get this offer

– Hertz offer - This link will open in a new window.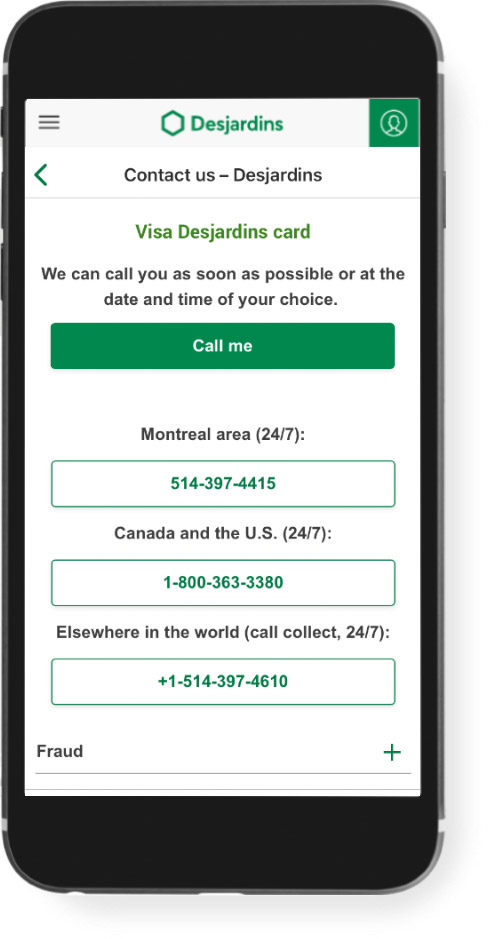 Manage your credit card
Let us know if anything has changed.
Get this card
Terms and conditions
Credit terms and conditions of the card - Quebec
Credit terms and conditions of the card - Outside Quebec
Certain conditions apply.
* Trademark of Visa Int., used under license
We reward members who are cardholders for managing their card responsibly by giving them 20% additional

Bonusdollars

on top of what they earn during the year.
Credited to account once a year, within 60 days of account reference period.
See eligibility requirements.
See the Desjardins

Bonusdollars

Rewards Program rules
Available to primary cardholders of a Odyssey Visa Infinite Privilege card. Eligibility requirements: Must have an eligible account. Primary card holder on the account must be a member of Fédération des caisses Desjardins du Québec or Fédération des caisses populaires de l'Ontario inc.
You must be an eligible Visa Infinite Privilege cardholder with a valid Visa Infinite Privilege card to take advantage of the Visa Infinite Privilege benefits and services. For additional information on Visa Infinite Privilege benefits and services, please visit visainfinite.ca/privilege. Certain benefits and services require enrolment. Offers and benefits are non-transferable and discounts cannot be combined with any other offer or discount. Neither Visa nor the Issuer of the card is responsible for any claims or damages arising from use of or participation in any benefits or services provided by a third party. Visa reserves the right to modify or cancel offers or benefits at any time and without notice. All offers, benefits and services made available through Visa are subject to complete terms and conditions, including third party suppliers' terms and conditions, available through the Visa Infinite Privilege Concierge or online at visainfinite.ca/privilege/terms.jsp.The Visa Infinite Privilege privacy policy (available at visainfinite.ca/privilege/privacy.jsp) applies to all benefits and services that require enrolment through, or are otherwise provided by, the Visa Infinite Privilege Concierge or the Visa Infinite Privilege website. The collection, use and disclosure of cardholders' personal information by third party suppliers of services and benefits to Visa Infinite Privilege cardholders are subject to such third parties' own privacy policies.
Global Airport Lounge Access - Priority PassTM. Cardholders must enrol for this benefit through the Visa Infinite Privilege website or through the Visa Infinite Privilege Concierge. Six lounge visits are complimentary per membership year for the enrolled cardholder to use for themselves or for their guests. Membership includes access to any airport lounge participating in the Priority Pass lounge access program. To access a lounge, cardholder must show a valid Priority Pass membership card. All additional visits beyond the complimentary visits are subject to a fee of US$27 per person per visit. Applicable lounge access charges will be billed to the Visa Infinite Privilege card connected to cardholder's Priority Pass membership. To view a full list of participating airport lounges, their facilities, opening times and restrictions cardholders can visit visainfinite.ca/privilege. Enrolled cardholders are subject to Terms and Conditions for the global lounge membership program and the individual lounge operators' terms of use for the participating lounges visited, available at www.prioritypass.com. Terms and Conditions will be sent to cardholder upon enrolment. The Airport Lounge Access services are provided by Priority Pass and neither Visa nor the Issuer is responsible for any claims or damages arising from use of the Airport Lounge services. Visa reserves the right to modify or cancel this offer at any time and without notice.
Visa Infinite Luxury Hotel Collection. Cardholders must use their Visa Infinite Privilege card to reserve and pay for their stay at a Visa Infinite Luxury Hotel Collection property through the Visa Infinite Privilege Concierge Service or the exclusive Visa web portal to automatically enjoy the benefits. Visa reserves the right to modify or cancel this offer at any time and without notice. The Visa Infinite Luxury Hotel Collection benefits and services are provided by the individual hotels or their operators and suppliers; neither Visa nor the Issuer is responsible for any claims or damages arising from use of the Visa Infinite Luxury Hotel Collection. For full program terms and conditions please visit visainfinite.ca/privilege.
If capacity permits.
Visa Infinite Privilege Concierge. The goods and services cardholders request or otherwise choose to obtain through the Visa Infinite Privilege Concierge Service are provided by various third party service providers unrelated to Visa. Visa does not endorse, review or qualify these service providers. Visa makes no representations or warranties (either express or implied) about, and assumes no responsibility or liability for these service providers or the goods and services that may be obtained through the Visa Infinite Privilege Concierge. Neither Visa nor the Issuer is responsible for any claims or damages arising from use of any benefits or services provided by a third party. Visa cannot guarantee the successful fulfilment of cardholders' requests in all instances. There is no fee for the Concierge's services, however cardholders are responsible for the cost of any goods or services (including any related fees or costs) authorized by the cardholder and purchased by the Visa Infinite Privilege Concierge on the cardholder's behalf. All costs will be charged directly to the cardholder's Visa Infinite Privilege card.