Odyssey Visa Infinite Privilege
Odyssey Visa Infinite Privilege
credit card
The Odyssey&reg Visa* Infinite Privilege card is a travel credit card with a low interest rate.
Eligibility: Minimum annual income of $150,000 (personal), $200,000 (household) or assets under management of $400,000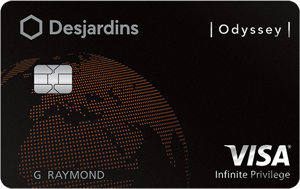 BONUSDOLLARS® Rewards

Up to 4% of your purchases

Additional card

Free for members

$95 a year for non-members

Annual fee
Your regular purchases earn you BONUSDOLLARS rewards
Get up to 4% in BONUSDOLLARS when you make purchases in these categories.
Restaurants

4%

of your purchases

Entertainment

4%

of your purchases

Public transportation

4%

of your purchases

Groceries

3%

of your purchases

Travel

3%

of your purchases

Other purchases

1.75%

of your purchases
Calculate your BONUSDOLLARS rewards
It pays to purchase with an Odyssey Visa Infinite Privilege card.
Here's how many BONUSDOLLARS you can earn.
Credit card benefits
Travel
Car rentals
Financing and cash advances
Protect your purchases and property
Security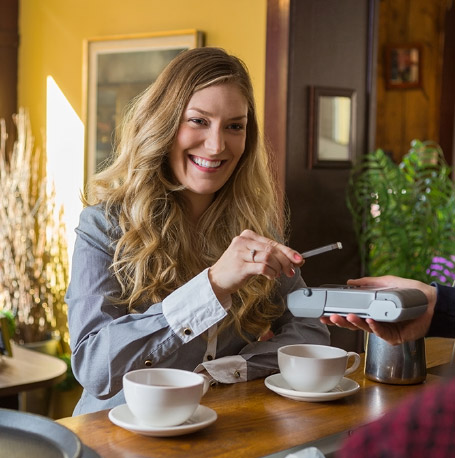 Card technology
Easy and secure online payment
Paying for your online purchases is easy with Click to Pay and get additional coverage with Verified by Visa.
Pay with your mobile device
It's so convenient to hold your device near the terminal to pay.
Extras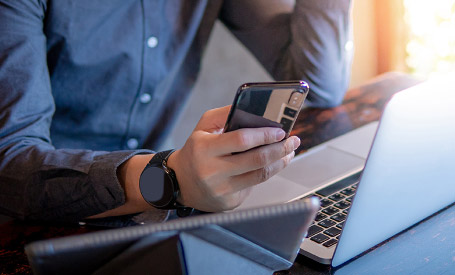 Manage your credit card
Let us know if anything has changed.
Annual fee and fixed annual interest rate are subject to change with 30 days notice.
® bonusdollars is a registered trademarks of Fédération des caisses Desjardins du Québec
®Hertz is a registered trademark of Hertz System, Inc., used under licence.
® Dollar and Thrifty are registered trademarks of DTG Operations, Inc. Used under licence. © 2018 DTG Operations, Inc.
You have 21 days from the date the monthly statement is issued to pay the full balance on your account without interest (except on cash advances and cheques). The minimum payment due is 5% of the total statement balance. This means the balance shown on your account statement for the previous period, any interest or monthly instalments that were not paid on the due date for that period, your regular purchases, any cash advances from the current statement period, plus the interest charged on those cash advances. This amount will also include any other amounts due under your credit card contract. Here are some examples of applicable interest charges for a standard 30-day billing cycle: If the regular annual interest rate is 9.9% and your average daily outstanding balance is $100, you'd be charged $0.81 in interest. If it's $500, you'd be charged $4.07 in interest, and if it's $1,000 you'd be charged $8.14 in interest.
Annual interest rate is subject to change. If you don't pay the minimum amount due, your annual interest rate will increase to 19.9% until we receive your payment.
The goods and services cardholders request or otherwise choose to obtain through the Visa Infinite Privilege Concierge Service are provided by various third-party service providers unrelated to Visa. Visa does not endorse, review or qualify these service providers. Visa makes no representation or warranties (either express or implied) about, and assumes no responsibility or liability for these service providers or the goods and services that may be obtained through the Visa Infinite Privilege Concierge. Neither Visa nor the Issuer is responsible for any claims or damages arising from use of any benefits or services provided by a third party. Visa cannot guarantee the successful fulfillment of cardholders' request in all instances. There is no fee for the Concierge's services, however cardholders are responsible for the cost of any goods or services (including any related fees or costs) authorized by the cardholder and purchased by the Visa Infinite Privilege Concierge on the cardholder's behalf. All costs will be charged directly to the cardholder's Visa Infinite Privilege card.
Cardholders must enroll for this benefit through the Visa Infinite Privilege website or through the Visa Infinite Privilege Concierge, and must have a valid Visa Infinite Privilege card linked to their Priority Pass membership at all times. Six lounge visits are complimentary per membership year for the enrolled cardholder to use for themselves or for their guests. Membership includes access to any airport lounge participating in Priority Pass' lounge access program. To access a lounge, cardholder must show a valid Priority Pass membership card. All additional visits beyond the complimentary visits are subject to a fee of $32 US per person per visit (subject to change). Applicable lounge access charges will be billed to the Visa Infinite Privilege card connected to cardholder's Priority Pass membership. Priority Pass membership will be cancelled if your Visa Infinite Privilege card is cancelled, or is no longer linked to your Priority Pass membership. Unless cancelled, Priority Pass membership automatically renews on its anniversary date. To view a full list of participating airport lounges, their facilities, opening times and restrictions, cardholders can visit www.prioritypass.com. Enrolled cardholders are subject to Terms and Conditions for the global lounge membership program and the individual lounge operators'; terms of use for the participating lounges visited, available at www.prioritypass.com. Priority Pass' Terms and Conditions will be sent to cardholder upon enrolment. The Airport Lounge Access services are provided by Priority Pass and neither Visa nor the Issuer is responsible for any claims or damages arising from use of the Airport Lounge services. Visa reserves the right to modify or cancel this offer at any time and without notice.
Where there is capacity.
Cardholders must user their Visa Infinite Privilege card to reserve and pay for their stay at a Visa Infinite Luxury Hotel Collection property, either through the Visa Infinite Privilege Concierge or through the Visa exclusive web portal, to automatically enjoy these benefits. Visa reserves the right to cancel or modify this offer at any time and without notice. The Visa Infinite Luxury Hotel Collection benefits and services are provided by the individual hotels or their operators and suppliers; neither Visa nor the Issuer is responsible for any claims or damages arising from use of the Visa Infinite Luxury Hotel Collection. For the full terms and conditions of the program, please visit visaluxuryhotelcollection.com.
Purchase Protection and Extended Warranty apply to most goods purchased with your card.