Open a bank account in Canada and enjoy our package for newcomers
Open a bank account in Canada and enjoy our package for newcomers
To welcome you to Canada, we'd like to offer you our package for new immigrants. It includes a no-fee account and monthly plan with unlimited transactions.
Ask us anything
Moving to a new country comes with a load of questions. Our multilingual experts are here to help you.
Our banking package for newcomers
We'll help you get settled
More advantages to opening an account with us
The Desjardins mobile services app, so you can make your transactions in just a few taps.
Easy online international transfers, up to $5,000 per day to transfer money securely, wherever you are and whenever you like.
Many advantages and discounts to help you explore Canada (travel, gyms, restaurants, etc.).
Insurance also available.
---
What's the difference between a credit card and a debit card?
Use a debit card to make purchases or withdrawals directly from your account. When you use it in a store or at an ATM, the money is immediately debited from your account.
Use a credit card to charge your purchases and pay for them later. You have to pay back the amount borrowed before the due date. When you use your credit card wisely, you also build your credit score, which lets you borrow from banks and retailers.
Frequently asked questions
The Desjardins difference
How are we different from other banks? We're a cooperative and we think that money should be at the service of human development. We believe in personal commitment, democratic action, integrity, rigour and inter-cooperation.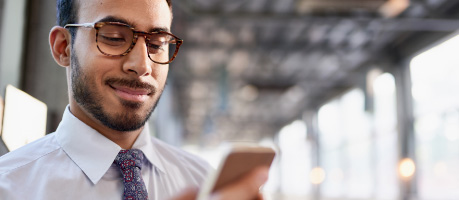 To help you with your departure
We have agreements with foreign banks to help you save money and do your banking.
More to consider
Are you coming to study in Canada?
If you are planning to study in Canada, check out our offer designed especially for students.
To be eligible for the package, you can't have been a member of a Desjardins caisse for more than 1 year, you are a permanent resident living in Canada for 3 years or less, or you are a temporary foreign worker with a work permit of more than 8 months.
The 1-year fee waiver applies only to the Unlimited plan and ends 12 months after the end of the month in which the account is opened. This offer may change without prior notice. Applies to newcomers to Canada as part of this offer only.
To qualify for a Desjardins credit card through this offer, you must open an account at a Desjardins caisse in Quebec or a participating caisse in Ontario and demonstrate that you intend to settle in Canada. Desjardins conducts a credit risk assessment before issuing credit cards and setting credit limits. Other conditions apply.
In Quebec only. Certain conditions apply.
Available for 1 year at caisses that offer the service.
Certain conditions apply. Contact your Desjardins advisor to confirm the enhanced rate you're eligible for based on your file.
With an account including a monthly plan.