Studying in Canada
Studying in Canada
We put together a package with everything you'll need while you study in Canada. Get a bank account with a free monthly plan and unlimited free transactions. We'll help you manage your money without the headaches.
Not a student?
We have another package for newcomers to Canada that includes a monthly plan and a no-fee account with unlimited transactions.
Our package for international students
The offer is valid as long as you are a full-time student.
A rewards credit card
Exclusive advantages and discounts to explore Canada (travel, gyms, restaurants, etc.)
More features
The Desjardins mobile services app, to manage your finances on the go
Are bank accounts really necessary?
It's not mandatory for international students to open a bank account. But, a Desjardins bank account gives you so many advantages because it was designed to make your life easier while you study in Canada.
It helps you manage your finances.
Use it to deposit your paycheque when you work in Canada.
Use it to pay your rent.
Free Interac® transfers make it easy to pay back your friends.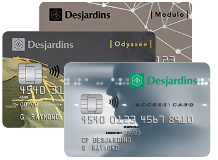 What's the difference between a credit card and a debit card?
Use a debit card to pay for your purchases directly from your account. When you use it at a store or ATM, the money will be debited from your account immediately.
Use a credit card to charge your purchases and pay for them later. You have to pay back the amount borrowed before the due date. When you use your credit card wisely, you also build your credit score, which lets you borrow from banks and retailers. No credit history is required.
Frequently asked questions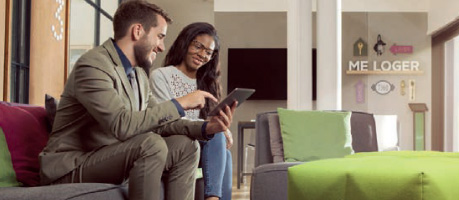 360d spaces: on-campus centres designed for students
Desjardins 360d spaces are financial advice centres for students ages 18 to 30. Our client relations associates understand your needs and use innovative technology to help you achieve all your goals.
The Desjardins difference
Desjardins is not a bank. We're a cooperative financial group and we think that money should be at the service of human development. We believe in personal commitment, democratic action, cooperative responsibility, integrity, rigour and inter-cooperation.
Smart students budget and plan
Canada is home to a long list of colleges and universities that offer a wide range of programs at very affordable tuition rates.
How to pay for your education
You have many options.
Work while you study
Students can work 20 hours a week to pay for their school and earn some Canadian professional experience.
Get a scholarship
Many foundations offer scholarships. Check your school or university website.
More to consider
Ask us anything
Moving to a new country comes with a load of questions. Our multilingual experts are here to help you.
Interac e-Transfer is a registered trademark of Interac Corp. Used under licence.
This promotional offer is for student members. This includes members between the ages of 18 and 21; members ages 22 to 25 enrolled in a full-time college or professional program at a recognized educational institution in Canada; and members who are full-time students at a Canadian university, regardless of their age. If you get this offer, you can choose the Unlimited plan, free of charge, or apply the value of this plan, meaning $13.95 a month, to the monthly fee of the Unlimited Plus plan and pay only the difference, which is $8.00 a month. To get this offer, you must go to your caisse or call 1-800-CAISSES. You must also be able to prove that you meet the eligibility requirements. No matter which plan you select, an additional fee of $1.50, $3 or $5 will apply to any withdrawals made from non-Desjardins ATMs affiliated with the Interac® and Plus* networks. Some providers charge additional fees to use their ATMs. They must notify you via an on-screen message before processing the transaction, so you can choose to cancel the transaction. These fees are added to the withdrawal amount.
At Desjardins ATMs only. For withdrawals from non-Desjardins ATMs in the Interac and Plus* networks, additional fees apply.
With an account that includes a monthly plan.
To obtain a Desjardins credit card, a recent immigrant must become a member of a Desjardins caisse in Quebec or Ontario, and open an account with them. The immigrant must also demonstrate a willingness to settle in Canada. The credit limit will depend on the applicant's credit risk. Other conditions apply.
In effect as of September 2019