Refinan­cing your mortgage
Need some cash for renovations or a big project? Use your home equity to get the funding you need.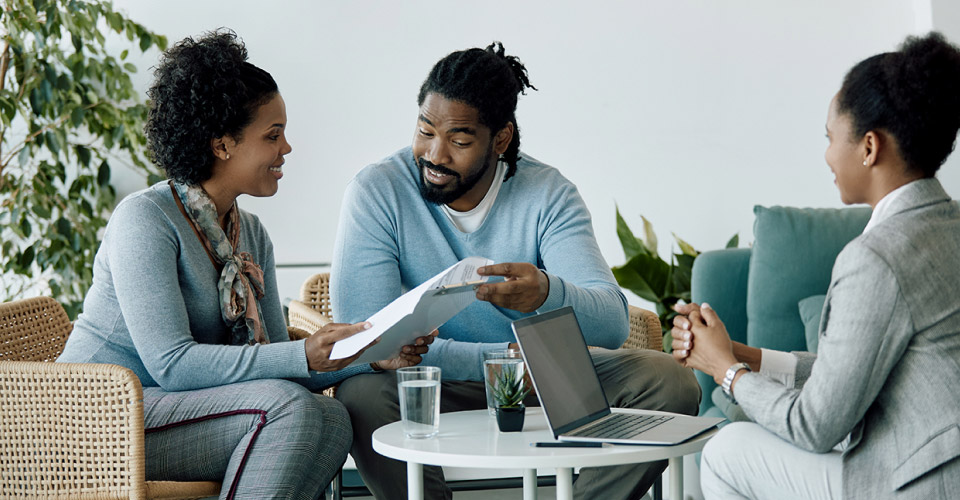 What does it mean to refinance your mortgage?

Refinancing your mortgage means using the net value of your home to borrow more money. Your mortgage amount generally increases when you refinance.
With refinancing, you can carry out the projects that matter to you, such as:
Renovating or fixing up your home
Going back to school
Buying a second home
The net value is the difference between the current determined 1 value of your home and the amount you still owe on your mortgage. We call this "equity".
Benefits to refinancing your home

Get interest rates that are often below those for a personal loan or line of credit, since your home is serving as collateral for your loan.
Flexible repay­ment options

Choose among our various refinancing solutions and stagger your payments according to your project.
Group your loans under your mortgage to keep better track of your payments.
Oppor­tunity to review your finan­cial situa­tion

Use the refinancing process to make sure your insurance and financial products still meet your needs.
A few things to keep in mind

Estimate your project costs to see if refinancing makes sense for your needs. A personal loan or line of credit may work better for you, especially if you want to repay your loan within a short period.
Review your budget to see if you can afford a higher mortgage payment. Remember to keep a buffer for unexpected expenses.
Consider that you may have to pay certain fees related to refinancing, such as prepayment charges, notary fees and property assessment fees.
You can refinance your home and review your financing amount at any time, but certain times are better than others:
How does mortgage refinancing work?

You can borrow up to 80% of the determined value of your home through refinancing. Learn how to apply so you can understand the process and what to expect.
1. Prepare your refinancing application

Make an appointment with your mortgage advisor and review our mortgage rates beforehand. You can also familiarize yourself with our refinancing products, such as mortgages and the Versatile Line of Credit.
Gather the documents we need to evaluate your file before meeting with your advisor. Make sure you're up to date on your taxes.
Documents to have on hand
Proof of income (such as a pay stub or federal notice of assessment)
Investment statements
Copies of municipal and school taxes
Current leases, profit and loss statements (tax schedules) and provincial and federal notices of assessment for the past 2 years, if you have income property
We may ask for more documents, such as quotes or loan statements, depending on your situation.
2. Meet with your advisor

Discuss your project with your mortgage advisor. Explain your needs and show them your documents. You can review products and interest rates together to find the right solution for you.
After the meeting, your advisor will do a full analysis of your current situation and financial capacity. This will decide your eligibility for refinancing. This may take some time depending on your file and the documents provided.
To see if you're eligible for refinancing, you may need to get the value of your property appraised by a certified appraiser. You pay for this appraisal (when it's required).
3. Finalize your refinancing file

Your mortgage advisor will let you know if you've qualified for refinancing once they're done analyzing your file. If you're eligible, you'll be told the amount you can access so you can set up the final terms of your new loan.
Once the final details are settled, you sign the new loan agreement and other required documents. Depending on your situation, you may need to see a notary at this step.
Refinancing so you can renovate?

Get quick access to a network of renovation professionals thanks to the turnkey service offered by EspaceProprio, a Desjardins initiative.
See your funding options and get tips.
What's the difference between refinancing and renewing?
They may seem similar, but refinancing and renewing refer to different things.
When you refinance, you use the net value of your home to borrow more money.
When you renew at the end of your term, you continue to pay down your mortgage with new agreed-upon conditions, but without borrowing more. If you increase your amount borrowed during your renewal, you're also refinancing.
What's the difference between refinancing and remort­gaging?
At Desjardins, both refinancing and remortgaging mean that you're using the net value of your home to finance another project. The difference mainly lies in the need to sign a new mortgage deed in the presence of a notary.
When you refinance, you're borrowing more money on top of your current loan. Often, you don't need to see a notary.
When you remortgage, you need to sign a new mortgage deed at a notary's office. This might happen, for example, if the additional amount you borrow exceeds the amount listed on your mortgage deed. This may also happen if you move or if you transfer your mortgage to us.
Is remort­gaging the same as taking out a second mortgage?
Remortgaging is not the same as just taking out a second mortgage.
When you remortgage, you replace your old mortgage with a new one. If you just take out a second mortgage, you'll have 2 mortgages on your property at the same time.
How much can I borrow through refinancing?
To know the maximum amount you can borrow through refinancing, calculate 80% of the determined value of your home and subtract the balance on your mortgage.
Keep in mind that this amount is based on the maximum amount authorized for refinancing in general. We have to do a full analysis of your file to see how much you can actually borrow.
Example
You want to do major renovations to upgrade your kitchen and bathrooms. Your property is appraised at $500,000. You have $250,000 left on your mortgage.
You want to estimate the maximum amount you can borrow when refinancing your loan. The maximum amount is 80% of the determined value of your home. You calculate: 80% of $500,000 minus the mortgage balance, which is $250,000. The maximum amount you can borrow is $150,000. This means that if you're approved for and borrow the maximum amount, your new mortgage will come to $400,000. This amount equals the current mortgage balance plus the amount available through refinancing.
Contact your mortgage advisor to find out the exact amount you can borrow for renovations.
Can I refinance my mortgage more than once?
Yes, you can refinance more than once. However, keep in mind that we check your credit report each time you apply. Repeated checks on your credit report may affect your credit score, so make sure you refinance only when necessary.
Monday to Friday: 8 AM to 9 PM
Saturday: 9 AM to 6 PM
We can call you when it's convenient.
The determined value is set by Desjardins and corresponds to the market value or to other considered values.