Participating life insurance
Insurance that covers you for life and builds cash value.
Call us to find the best coverage for you.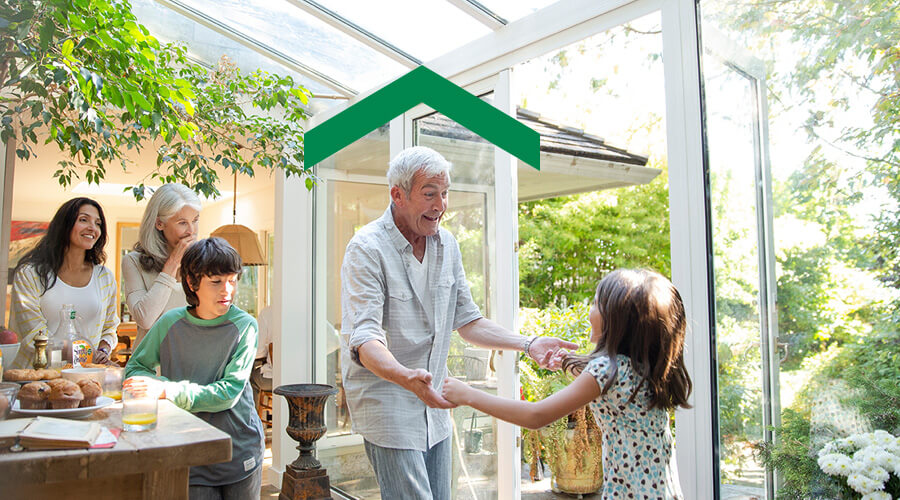 What is participating life insurance?
Participating life insurance provides the coverage you need plus the opportunity to grow cash value. The premiums you pay go into our participating account, which may, depending on its performance, provide a dividend 1 each year.

We manage the participating account entirely, making sure investments are diversified and safe.
Why participating life insurance might be right for you
Participating life insurance provides a tax-free payment to your loved ones after you're gone. Plus, you have the chance to access the cash value during your lifetime. 2
You can have peace of mind knowing that you can build a financial foundation for your loved ones and boost your retirement income if you need to.
Leave an inheritance to your family
You can accumulate more than with our permanent life insurance.
Pay the taxes on your estate
A way to reduce the tax burden on your family.
Access cash during your lifetime
Through dividends 3 and cash surrender values. 2
5 dividend options 1 to grow your estate.
The premiums, insurance amount and some cash surrender values are guaranteed. 4
Pay your premiums for 5, 10 or 20 years, or up to age 100.
Advantages of participating life insurance
We offer a variety of coverage options 5 .
Maximize your insurance amount
To increase the amount payable on your death and leave more to your loved ones.
Take advantage of high cash surrender values
To help you reach a goal or increase your retirement income. 2
Choose how to use your dividends
You can use them in several ways: 6
Get paid-up additions (PUAs) 4
Deposit them to earn interest.
Receive a cash payment.
Reduce your annual premium.
Increase your coverage amount with the enhanced insurance option.
You can use cash surrender values for business purposes:
Finance development projects.
Supplement the retirement income of a shareholder.
Manage risks related to losing a key person in your company.
Plan the transfer of your business and protect its future in the event of your death.
Boost your protection with our add-ons.
Accident
Accidental death, dismemberment or loss of use
Accidental dismemberment or loss of use
Accidental fracture
Business insurability coverage
Children's accidental fracture
Children's life protection
Guaranteed insurability benefit
Waiver of premiums in case of disability
If you have health-related questions or are looking for support, we're here for you.
Call anytime for advice from a nurse on nutrition, vaccinations, the use of prescriptions drugs and other health matters.
What are life insurance dividends?
Life insurance dividends are payments made to insurance policyholders. Unlike dividends paid by companies to shareholders, they don't entitle the holder to share in the company's total profits. And they don't receive the same tax treatment.
How do paid-up additions (PUAs) work?
PUAs are single premium permanent life insurance amounts that are added to the basic insurance coverage amount. They generate additional dividends as of the second year. This means the amount payable upon death and the cash value can increase.
How can I use the cash value in a participating life insurance policy?
You can use cash value in various ways:
Withdraw the non-guaranteed cash surrender value generated by PUAs.
Apply for a policy loan.
Request a partial or total surrender of your basic insurance coverage.
Ask for premium payments to stop and opt for reduced paid-up insurance. 4
What's the difference between cash value and cash surrender value?
Cash value is the amount that builds up over time in a life insurance policy based on the premiums paid, interest earned, etc.
Cash surrender value is the amount you'll receive if you cancel (or surrender) your policy or withdraw cash. This is usually the cash value minus fees, if any.
Get a life insurance quote
We can also call you when it's convenient.
Explore our other insurance options

Life insurance and living benefits products are manufactured by Desjardins Financial Security Life Assurance Company.
Dividends are not guaranteed and may differ from those indicated in financial projections. You may be taxed on withdrawals. Dividends paid in cash or on deposit become taxable when the dividend amount exceeds the policy adjusted cost basis (ACB). However, any dividends used immediately after being credited to pay a premium, get paid-up additions, increase the insurance amount or reduce your premium, pursuant to the terms of the policy, are not taxable. Cash surrender values are guaranteed except with paid-up additions (PUAs). Coverage options offered vary depending on the result of your needs assessment. All dividend options are available, except if you opt for a product payable over 5 years. For this product, the only option available at the time of sale is to increase your insurance amount.