Changing homes
Changing homes
How to get from home A to B
Are you homeowner who is planning to change homes? Here are all the tips you'll need to sell your home and buy a new one.
Prepare to list your home
There are a few things to consider before you can put up the "Sold" sign on your front lawn.
Sell your own home or hire a broker
How well do you know the market? Do you have the time and motivation? Will you save by selling your own home? Answering these questions will help you decide whether you should hire a broker. If you decide to sell your own home, there are specialized agencies and sites that can help you through the process.
Know your rights and obligations
Find out what the obligations are of all the parties involved: compliance of the property, seller obligations, forms and documents required for the offer to purchase. Your notary is also a key source of information.
Helpful sites
Know the selling costs
A few things to consider (if applicable)
Broker commission
Chartered appraiser fees
Mortgage prepayment charges
Mortgage discharge fees
Certificate of location
Steps to sell your home
Follow these steps to ensure a smooth transition between the purchase and sale of your home.
Every purchase and sale of a home is different. That's why it's helpful to have your advisor guide you through the process.
Questions to consider
Do you plan to close the purchase of your new home and move in before selling your current property?
Do you plan to sell and move before the end of your current mortgage term?
Do you know if your contract lets you pay off your mortgage at any time without prepayment charges?
Do you have different needs for your upcoming mortgage?
Do you expect to stay with your caisse or do business with a caisse closer to where you're moving to?
Your advisor can help you answer these questions and offer solutions tailored to you.
Examples
If you have your current and upcoming mortgages with Desjardins, you can transfer the conditions of your current mortgage to your new one and be entitled to a partial or full reimbursement of any prepayment charges.
If you take possession of your new property before selling your old one, you're eligible for a bridge loan. This short-term loan allows you to pay the necessary fees to purchase your future home, such as the down payment. You then pay them back once your current property has sold.
Find out how to declare your sale on your income tax return.
A real estate broker can help you set the price for your home by looking at your neighbourhood, the features of your home and comparables. If you intend to sell it on your own, contact a chartered appraiser. Only chartered appraisers can set a sales price for your property in an unbiased manner.
Maximize the value of your home
Follow a few home staging guidelines: don't make the décor too personal and spruce up both the inside and outside. It can sometimes allow you to increase your asking price.
Fill out the Declarations by the seller of the immovable form or an equivalent form. It's where you declare the condition of your home, which minimizes the risk of legal action against you by future owners. The form also helps potential homebuyers make informed decisions.
What it includes
The offered price
Inclusions and exclusions
Expiry date of the offer
Conditions
A home inspection by a professional home or building inspector
Possession date
Temporary occupancy
Mortgage approval
If you're not comfortable with certain conditions in the purchase offer, you can sign a refusal and make a counter offer, which may or may not include a different sales price.
Get home insurance to protect your property and goods.
Once the purchase offer or counter offer is accepted and all conditions are met, you can make the transaction official by sealing the deal at the notary's office.
Let your caisse advisor know of the terms of the sale.
Other tips
Online tools
Buying your first home
If you're a Desjardins member, log in to AccèsD to walk through the key steps of the buying process and to:
Calculate your budget
Estimate your monthly payments
Get pre-approved
On AccèsD, go to the Home section and click Prepare to buy.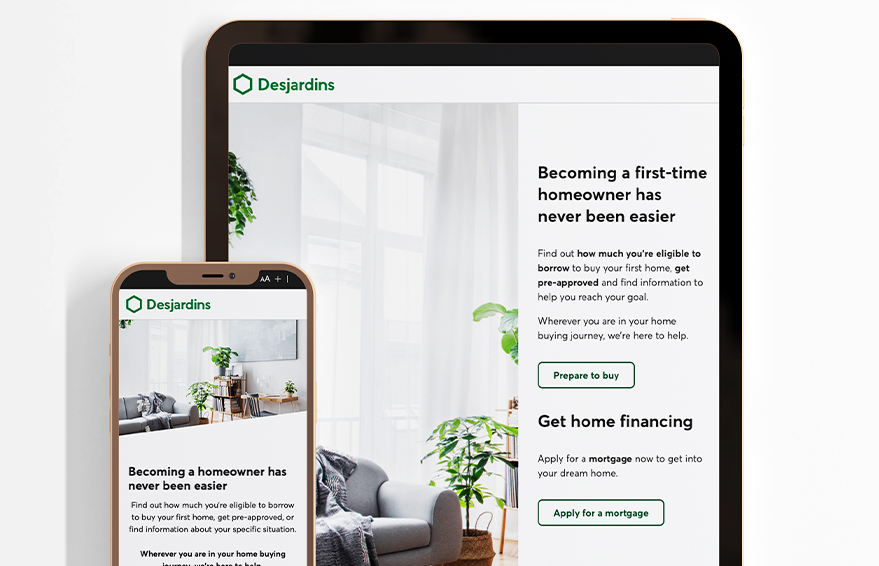 Ready?