Cottage insurance
Insure your secondary residence and choose coverage that suits your needs.

Call us to get a quote and buy home insurance for your cottage.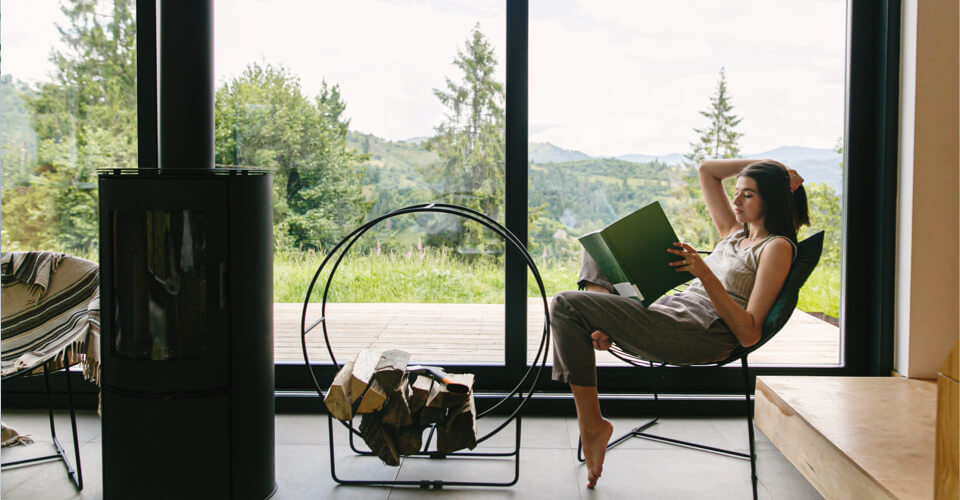 How to choose cottage insurance coverage
Unlike a primary residence, a secondary residence is occupied only a part of the year. It may be a 3-season cottage, a country house or a condo near a ski hill.
The extent of your insurance coverage for a secondary residence depends on how much time you spend there, it's value and the value of its contents, such as your belongings and furniture.
Determine the value of your cottage and its contents
This will help you figure out just how much you need to adequately cover your secondary residence and its contents. It's easy to underestimate the value of everything you own, so don't skip this step!
Assess the value of your secondary residence
This isn't the price you paid or the municipal evaluation. It's how much it would cost to rebuild your cottage today if it was destroyed. Don't hesitate to ask for a professional assessment, if needed.
Make a list of your belongings
When making a list of the items in your secondary residence, it's important to differentiate between your temporary and permanent belongings.
Temporary belongings are the things you bring with you when you stay at your cottage. They are generally covered by your primary residence home insurance policy.
Permanent belongings stay at your cottage all the time. They are covered by your cottage insurance.
Determine what coverage you need
We're here to walk you through the process, from start to finish. You can start by answering the following questions. They can help you identify your coverage needs.
Questions you should answer before choosing your coverage
Do you use your cottage all year long or only for a few months each year?
Do you rent it out to other people? It's important to let us know because it could affect the availability of some coverages.
How much could you pay out of pocket in the event of a claim? This will help you determine if you should opt for a higher deductible.
Do you have a watercraft? The amount of insurance is limited in case of damage or loss to watercrafts and related equipment. Additional coverage (endorsement) could be useful.
Pay close attention to the water damage coverage. It's the most common type of damage.
What type of coverage is best for your cottage?
All-risk coverage protects you for most common damages or losses like:
Fire
Theft
Vandalism
Accidental water damage (for example, if the pipe to your sink bursts)
Damage to furniture and belongings
It also provides liability coverage for unintentional bodily injury or property damage that you may cause to another person.
If eligible, your cottage may be covered by all-risk coverage.
Is your haven a cottage that you only use in the summer? Named perils coverage is appropriate for seasonal use and covers your building and belongings.
Your cottage is covered for basic risks, like:
Fire, lightening and smoke
Tornadoes, hail and wind
Accidental water damage (for example, if the pipe to your sink bursts)
In some cases, you can add separate coverage for burglary and vandalism.
Named perils covers only the risks specified in the contract. Risks that are not named are not covered.
This insurance covers you for unintentional bodily injury or property damage that you cause to a person who doesn't live with you. This could happen if someone gets hurt on your property or if your campfire spreads to a neighbouring property.
Are you renting out your cottage?
The first thing to do is to let us know because all rentals must be mentioned on your policy's Coverage Summary.
If you do rent out your cottage, we may ask you:
How many days a year do you plan to rent it out?
Do you include the use of leisure equipment (for example, watercraft or bicycle)?
Do you provide services to renters (for example, breakfast or activity reservations)?
When renting out your secondary residence, it's preferable that renters have their own liability coverage. This way, you'll avoid a lot of headaches if a renter causes damage.
Short-term rental platforms
If you rent out your cottage on a short-term rental platform, check the platform's insurance policy.
Many of these policies cover only the depreciated value of the belongings that need to be replaced. Others are limited to damage caused to belongings by renters and exclude damage caused by sewer backup, for example.
Always let us know so we can provide you with the coverage that's best for your needs.
Some municipalities don't allow short-term rentals. Make sure yours does. Some organizations like the Corporation de l'industrie touristique du Québec (CITQ) have rules about this as well. We recommend that you do your homework.
Get a home insurance quote for your secondary residence
Call us to get a quote and buy your insurance.
Remember to insure your watercraft and recreational vehicles
Do you spend your cottage time on the lake or on solid ground? Be sure to protect your recreational equipment so you won't have to worry about it.
Protect your cottage with the Alert program
Get peace of mind at a great price with the AlertTM program, which includes the DIY home alarm system by Roost®. When you subscribe to Roost's monitoring service, you could also save up to 10% on your home insurance.
Do I have to get home insurance if I own a home or cottage?
No. Unlike auto insurance, you aren't required by law to get home insurance. However, without home insurance, you might have to pay thousands of dollars following a damage or loss. Don't run the risk of losing everything you've acquired over the years.
If you have a mortgage, keep in mind that the financial institution you're dealing with will probably require you to take out adequate home insurance.
What determines the cost of my cottage insurance premium?
Several factors affect the cost of your insurance. Here are some examples:
Building characteristics (for example, materials, location, heating system)
The deductible, meaning the amount you have to pay in the event of a claim
Renting it out
The coverage you chose
The value of the items insured
The number and type of your previous claims
How often should I review my insurance coverage for my cottage?
You should review your insurance every year to make sure it still meets your needs. Renovations and upgrades could affect how much insurance you need. Other changes to your situation, like short-term rentals to others, could also impact your premium.
When should I contact my insurer if I'm renovating my cottage?
Before you get started, contact your insurer. By asking you a few key questions, they'll be able to determine whether your current policy provides the right amount of coverage. For example, will your cottage be unoccupied during the work? Will these renovations significantly increase the value of your cottage?
Damage insurance products are underwritten and distributed by Desjardins General Insurance Inc., provider of automobile, property and business insurance.
The information on this page is provided for informational purposes only. The terms and conditions of the coverages described are set out in the insurance policy, which always prevails. Some conditions, exclusions and limitations may apply.
The Roost word mark and logo are trademarks of Roost, Inc., and have been registered in the United States and in certain other jurisdictions.
AlertTM is a trademark of Desjardins General Insurance Group Inc., used under licence.