Business property and liability insurance
Protect your business against loss or damage. Get a quote and find the insurance that's right for you.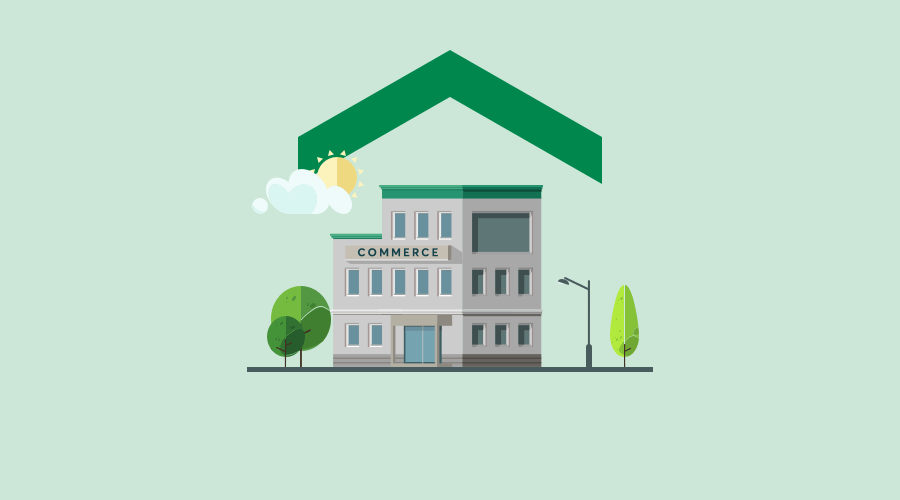 Give us your contact information, and we'll call you back within 2 business days to complete your request.
What types of businesses do we cover?

We insure businesses in some sectors, based on their needs and related risk.
How to choose commercial and small-business insurance coverage

Determine the insurance amount you need

To determine the right insurance amount, make sure you accurately estimate the value of your business's property and building. We recommend calling on an expert to assess the value.
Let us know about any change that could impact the value of your commercial property and building.
Estimate the value of your property

Your property includes:
Products and merchandise
Furniture, equipment, supplies and tools
Telephone and computer systems
Valuable documents and archives
Improvements you made to the premises if you're leasing
Take into account inventory fluctuations throughout the year or at a specific time, like at Christmas.
Determine the rebuilding cost

In the event of a loss, how much would it cost to rebuild? Take into account the cost of labour, construction materials and demolition. And keep in mind that other factors can impact the total amount.
We recommend calling on a chartered appraiser to determine the realistic rebuilding cost.
Identify your business sector's specific needs

The owner of a hair salon doesn't have the same insurance needs as a building contractor or the owner of rental properties. To choose the right coverages, you have to take into consideration the size of the business, its location, the type of activity and any related risk.
Here are some questions to get you started:
What kinds of losses could impact your operations?
Do you carry goods as part of your activities?
Do you own or lease the building where your business operates?
Do you keep your clients' personal data?
Our basic insurance policy includes 6 coverages.
This insurance covers your business's property, such as merchandise and equipment, from damage caused by fire, theft, vandalism and certain water damage.
It also covers damage to the commercial building you own or to the upgrades you made to the premises you're leasing or renting (for example, lighting, paint, decorations).
Examples
A fire in your clothing store destroys part of your merchandise and equipment. We cover the replacement cost of the merchandise and equipment damaged.
You own a garage, and someone tries to break in during the night. We cover the cost of repairing the damage.
You own a photo studio, and one of the cameras is stolen during a photo shoot. We cover the replacement cost of the camera.
Liability coverage protects your business in the event of a claim or action from a third party who sustained bodily injury, property damage or other accidental harm.
When the loss is covered, we also cover your defence costs and compensate the other party if your business is held liable for damages or harm.
Liability coverage applies to claims related to the operation of your business, including its premises, products and services.
Examples
A patient going into your clinic slips on the stairs you haven't cleared yet and breaks their wrist. They decide to sue the company for loss of income due to their injury and medical expenses.
You're a house painter and you damage your client's hardwood floors. She sues you for the cost of repairing and restoring them.
A fire breaks out in your offices and spreads to neighbouring buildings. You're asked to pay for damages caused to your neighbours.
This protection covers the repair or replacement of your equipment (for example, electrical, electronic and computer) in the event that it suddenly and accidentally breaks down on the insured premises.
Examples
A surge occurs when power is restored following an outage, which causes your computer equipment to break down. We cover the cost of repairing or replacing this equipment.
You own a grocery store, and the cold room compressor suddenly breaks down. We cover the cost of repairing the compressor and the loss of your perishable goods.
You lose data stored at your cloud computing service supplier due to a mechanical breakdown of one of their hard drives. We cover the cost of recovering the data lost.
This coverage compensates your business's loss of income or additional expenses incurred to ensure the continuity of its activities, if property is destroyed or damaged by a covered loss.
If you have to close your business for several months, we also cover employee salaries according to the duration and conditions set out in your insurance policy.
Examples
You have to close your beauty clinic for months following a fire. We compensate your loss of income for up to 12 months starting on the date of the loss, and we pay employee salaries for the period set out in your policy.
You own a residential rental building. Your building is significantly damaged following a fire, and your tenants have to relocate during repairs. We cover the loss of rental income until the tenants move back in, up to 12 months from the date of the fire.
Dishonesty, disappearance and destruction

Included
This protection covers your business in the event of fraudulent activities, such as money theft or internal embezzlement.
It also covers money theft on or off the insured premises (for example, when you're making a deposit), as well as counterfeit money orders or paper currency.
Examples
An employee transfers funds from your business account to their personal account without your knowledge or consent. We cover the amount of the fraudulent transfer.
You own a convenience store and are the victim of armed robbery. We cover the cash amount stolen during the robbery.
When installing a client's windows, you unknowingly accept counterfeit money. We reimburse the amount of those counterfeit bank notes.
Public utility interruption

Included
This protection covers your business for loss of income and physical damage following a service interruption (water, electricity, gas).
The public utility interruption must be caused by an event covered by your insurance policy (for example, a fire, a hail storm or a windstorm).
Example
A windstorm damages the power lines, resulting in a 3-day power outage. You have to close your business until power is restored. We cover your business's loss of income.
Add optional coverages based on your business's needs.
Our 2 optional coverages protect your business from damage caused by cyberattacks and data breaches.
Also known as "errors and omissions," this insurance protects your business in the event of an error, omission, or negligence committed during operations, and that resulted in financial loss or, in some cases, bodily injuries to a person.
This coverage helps you pay for some legal fees in the event of a claim or legal action.
Examples
You own a hair salon. A client gets burns on her scalp when getting her hair dyed. She decides to sue your salon for the injuries sustained.
An employee at your bookkeeping practice omits to record a client's unpaid bills. As a result, your client fails to pay their suppliers. The suppliers stop providing services to your client, who is then forced to cease all operations for several days. Your client sues your firm for loss of income due to business disruption.
Condo syndicate directors and officers liability coverage

Optional
This protection covers financial losses resulting from malpractice or breach of obligation committed by directors and officers of a condominium building as part of their duties.
This coverage is mandatory for condominium properties.
Examples
A rule in the syndicate's governing documents states that condo owners aren't allowed to have a BBQ on their balcony. The syndicate doesn't enforce this rule, and a condo owner's BBQ explodes and damages neighbouring units. The insurer of the condo owners who sustained damages sues the syndicate.
A condo owner has difficulty selling her condo unit due to the building's poor maintenance. The condo owner decides to move forward with a suit against the condo syndicate's directors and officers.
Sewer backup and overflow

Optional
This coverage protects your business's property and building from damage caused by backups or overflows from sewers, sumps, septic tanks or drains other than roof drains.
Example
Torrential rain causes a sewer backup in your shoe store. You have to replace your furniture and part of your merchandise, as well as pay for cleaning up and repairing your store (flooring, paint, décor, etc.). We reimburse the cost of the damages incurred.
This protection covers damage caused by the overflow of a river, lake or any other body of water (artificial or natural) to your business's property and building.
It also covers damage caused by water and natural precipitation temporarily pooled on the surface of the ground.
Examples
Following heavy rains, the water pooled on the surface of the ground seeps into your business's basement and damages the merchandise, floor and furniture. We cover the cost of repairing or replacing your property damaged by the flood.
You're a building contractor, and a flood causes physical loss on your worksite. We cover the loss incurred.
This protection covers damage caused by water that temporarily accumulates on the roof and penetrates inside. Backflow or overflow of gutters is also covered by it.
Example
Leaves are clogging the downspout of your commercial building's flat roof. Water penetrates inside and damages your furniture and equipment. We cover the resulting damages.
This coverage protects against damage caused by an earthquake or other ground movement that might occur afterwards, like avalanches, landslides or subsidence.
Examples
An earthquake damages houses under construction on your worksite. We cover the cost of repairing these houses.
A landslide damages the foundation of your company's building following an earthquake. We cover the damage.
Get up to 5% off when you insure your business and your commercial vehicles with us.
You also only pay one deductible if the same event damages your vehicles and property insured with us, whether they're personal or commercial.
Get a discount if your business has a centrally monitored fire and theft alarm system.
Get full compensation following a covered loss. Unlike most of our competitors, we apply no co-insurance clause to our policies.
The co-insurance clause requires businesses to take out an insurance amount equal to a certain percentage of their property and building replacement cost, usually around 80% or 90%. If the business doesn't comply with this clause, it'll be penalized in the event of a partial loss and will have to pay for part of the damage.
Filing a claim with us is also simpler since we don't ask you to submit a complete inventory in the event of partial loss.
Business assistance services

You have access to 2 free services 24/7:
Legal assistance: Get legal information for your business, over the phone.
Business concierge: Get help when planning business events or trips.
Your company suffered a loss? Our claims service is available 24/7.
How much does business insurance cost?
It's hard to come up with a precise number since the business insurance premium depends on several factors and each business has its own unique needs.
A number of factors can cause the cost of insurance to vary. For example:
Type of product or service offered
Annual business income
Activity sector
The value of your property
Building's location, features and added protection measures
When it comes to picking the right insurance provider, price can't be the only deciding factor. It's essential to choose the right protection for your business and to make sure that all key elements are covered by your insurance policy.
To learn more, see How to limit the cost of your business insurance premium?
What's the difference between property insurance and liability insurance?
Property insurance protects your business's merchandise, equipment and buildings from damage caused by fire, theft, vandalism and certain water damage.
It also protects your business in case of:
Income drop following a loss or damage
Equipment breakdown
Fraud, money theft or misappropriation of funds
For example, a fire breaks out in your store and destroys part of your merchandise and equipment. We cover the cost of replacing the merchandise and equipment damaged.
Liability insurance protects your business in case of accidental damage caused to a third party. This insurance can cover:
Bodily injury
Property damage
Any defence costs you incur if you're sued
For example, someone gets injured in your place of business and then sues your company. Liability insurance can cover your business's defence costs and damages that may be awarded to the person.
Is liability insurance mandatory for businesses?
No, it's not mandatory. However, it's highly recommended—no business is immune to damages caused to a third party. A lawsuit could have significant financial consequences on your business and even jeopardize its future.
What kind of insurance do I need if I have a home-based business?
It depends. You may have specific business needs. But, generally speaking, self-employed workers and home-based business owners have the following options:
Home insurance endorsement
It's not a type of business insurance. It's an optional coverage (endorsement) you can add to your home insurance to cover professional or commercial activities that take place in your home. This endorsement usually covers your equipment but not your loss of income resulting from an event.
With this option, your liability insurance is also included in your home insurance policy.
Business insurance
When you get business insurance, you can add specific coverages, such as loss of income or cyber crimes. Contact us to discuss what coverage your home-based business needs.
Health and disability insurance
In addition to business insurance, you may need individual health and disability insurance to protect your income in case of an illness or accident. To learn more, see Health and disability insurance.
To learn more about the importance of these insurance options, see Entrepreneurs and self-employed workers: Do you have the right coverage?
Get a commercial insurance quote

Monday to Friday: 8 AM to 8 PM
Saturday: 8 AM to 4 PM
See our other business insurance options

Damage insurance products are underwritten and distributed by Desjardins General Insurance Inc., provider of automobile, property and business insurance.
The information on this page is provided for informational purposes only. The terms and conditions of the coverages described are set out in the insurance policy, which always prevails. Certain conditions, limitations and exclusions may apply. Savings and discounts are based on your profile and subject to eligibility conditions. Offers and discounts are subject to change without notice.