More ways to keep you safe
Security section in
AccèsD
This section gives you a snapshot of your security level in AccèsD, as well as personalized recommendations to improve it.
You can manage your password, security questions and images, trusted devices and 2-step verification, all in one place.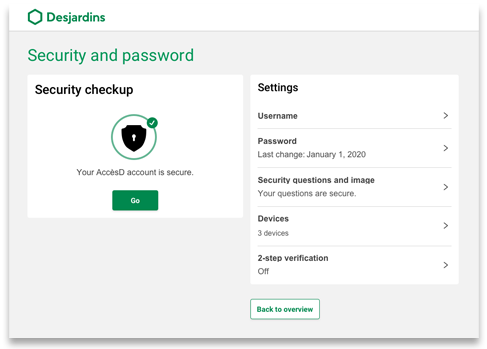 Account protection tools
Personalized recommendations
See what security features need to be enhanced to better protect your account and your personal information.
Username management
Enable biometric login for even more secure account access.
Password management
Create or change your password using established security criteria to limit the risk of identity theft.
Choosing security questions and images
Select 3 security questions and an image among the choices available to prevent unauthorized access.
Identify trusted devices
Add the devices that you plan to use to connect to AccèsD and delete those you don't recognize to discourage unwanted visitors.
2-step verification
Use the most effective measure available against fraud and identity theft by combining a security code with your password.
How to access the Security section
Under Quick access, select Security.
Click Security in the right-hand menu.
Our additional security measures
Desjardins Identity Protection
Available to all members and clients, this service protects your accounts and assets at Desjardins. It also includes Equifax credit monitoring, support services for victims of identity theft, and reimbursement of certain expenses, such as ID replacement costs or attorney fees.
More security best practices
Adopt security best practices and you'll be less likely to become a victim of phishing, credit card theft or fraudulent transactions.