AccèsD Affaires
Efficient, flexible and secure
Videos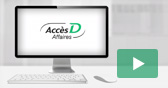 Added on April 20, 2018
Desjardins mobile services - AccèsD Affaires (1 min 20 s)
Animated demonstration of AccèsD Affaires on the Desjardins mobile services app, available on your tablet or mobile phone. Download it for free. It's easy to use, secure and you can use it anytime, anywhere.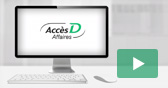 Added on June 23, 2015
Discover the new AccèsD Affaires (2 min 27 s)
Animated demonstration of the new version of AccèsD Affaires: improved logon procedure, new overview page and simplified, secure navigation between AccèsD Affaires and Desjardins.com without having to log off.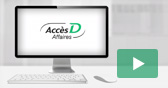 Added on December 16, 2013
AccèsD Affaires overview (3 min 30 s)
An overview of the business transactions you can make on AccèsD Affaires.
Available features
AccèsD Affaires mobile banking
Use the Desjardins mobile services app on your smartphone or tablet to make your regular transactions anywhere, anytime! Get information about Desjardins products and services, the Co-opme program and exclusive advantages for Desjardins members right on your smartphone or tablet.
Available 24 hours a day, 7 days a week (except Sundays from 2:00 a.m. to 6:00 a.m. (ET).
Intermediate offer: If you have one or more business accounts managed by one or more users, to take full advantage of the service
Optimum offer: For up-to-date account consolidation and international services