Youth
Desjardins has a long tradition of involvement with local youth. This is why Caisse Desjardins de la Chaudière is so enthusiastic about the concerted effort being made by all Desjardins components toward youth outreach.
Here are a few of our winning practices with regards to youth clientele:
Specialized advisors dedicated exclusively to youth clientele in each of our service centres
School caisse available in local schools
Substantial donations and sponsorships to several projects submitted by young people
Participation in the Caisses du Grand Lévis student scholarship program ($100,000 awarded)
3 young intern directors on the board of directors
Annual meetings of a youth committee made up of directors and employees
Youth scholarship contests
Caisse Desjardins de la Chaudière and Caisse Desjardins de Lévis are once again holding their youth scholarship contests. The caisses of Greater Lévis will award $100,000 in scholarships to 130 members.
You can apply from March 1 to 31, 2023, by creating a profile on the Desjardins scholarship application platform.
Read the contest rules (in French only, PDF, 429 KB) - This link will open in a new window.
Create a profile on the Desjardins application platform - External link. This link will open in a new window.
Personal Finance: I'm in Charge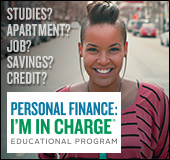 Are you between 16 and 25? Want to take charge of your finances and make sound decisions as a consumer, student or worker?
Personal Finance: I'm in ChargeTM is just what you're looking for. You'll learn more about things that matter to you, such as:
consumer choices
cellphones
education and work
budgets
financial services
Thanks to the collaboration of your caisse, free 2-hour group workshops are offered by the area's community partners and educational institutions.
We take a dynamic approach that gets you involved. You'll interact through a variety of hands-on activities and exercises.
Want to find out more? Just contact one of our regional partners.
Desjardins youth offer