Youth
Young people matter to us
Caisse Vallée de La Matapédia is proud to introduce youth advisor Frédéric Plourde.
Backed by the caisse's team of personal finance advisors, his role is to tell young people about Desjardins products and services designed especially for them. He also gives talks in local schools to help young people decide which products and services are right for them, monitor their financial cycle, set up a budget, manage their credit score, steer clear of debt pitfalls, save toward a goal, and much more.
Frédéric is in tune with young people and is good at identifying their needs and wants. To learn more, call 418-629-2271 or text 418-631-4566 to schedule an appointment with him or another advisor.
Students can sign up for AccèsD over the phone by calling 1-800-955-2271 or 1-800-CAISSES (1-800-224-7737).
Education and young people are a priority for us.
Youth services
Investing in local youth is nothing new for the caisse, which is why we are an enthusiastic partner in coordinated Desjardins-wide initiatives for young people.
School Caisse program
The caisse actively supports the School Caisse education program in a number of local elementary schools to help young people learn to be good savers early on. We visit classrooms at the start of the school year to get students thinking about saving money. We also hold a contest to motivate them to adopt smart financial habits that will pay off later in life.
Learn more about the School Caisse program.
Youth Dividend
The caisse wants to encourage—and even reward—its young members who save money, which is why several hundred receive a youth dividend through the Community Development Fund.
Services available to youth ages 12–17
Check out the High school students section for lots of cool stuff and a peek into the world of finance.
You can explore:
The caisse in your classroom
Caisse representatives can come to your high school classroom to talk about savings, credit pitfalls, budgeting and more. We want to encourage young people to make wise financial decisions, give them the tools they need and teach them good spending habits.
Email - This link will open in a new window.Frédéric Plourde to learn more.
Services available to young adults age 18-30
Students
Are you a vocational, CEGEP or university student?
Check out the products and services designed especially for you in the Students section.
Did you know?
The Desjardins Youth Profit Account gives you $4 off your monthly administration fees or your selected plan. This offer is valid for full-time students age 25 and under.
Personal Finance: I'm in Charge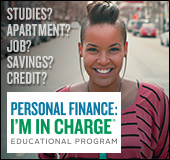 Financial education program
Are you age 16 to 25? Want to take charge of your finances and make informed choices as a consumer, student or worker?
The Personal Finance: I'm in Charge™ program is designed just for you, covering relevant topics such as:
Consumer choices
Cellphones
Education and work
Budgeting
Financial services
Your caisse works with community partners and local educational institutions to offer free 2-hour group workshops.
The classes are interactive and engaging, with a variety of hands-on activities and exercises.
Want to know more? Contact our partner, ACEF de la Péninsule.
Desjardins Foundation scholarships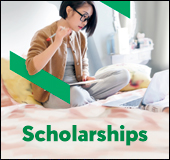 The caisse contributes to the Desjardins Foundation, which awards over $500,000 in academic scholarships every year. Check back for the dates of the application period and submit your application. The Foundation supports high school, college, university and vocational students across Quebec.
Scholarship program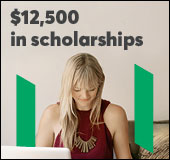 The En route vers ma réussite! Program aims to help young people succeed academically. The program is yet another example of the caisse's commitment to youth.
To be won
$12,500 in scholarships: 25 scholarships of $500
How to enter
Check the Desjardins Foundation page for the application period.
Young workers
Have you recently entered the job market and want to stretch your salary as far as possible?
Visit the Young workers section.
If you are a health or business professional, the Professionals section has lots of useful information.
The Young Intern Director program gives you the opportunity to sit on a real-life board of directors for one year. By working with elected directors, you learn more about their role.
Interested in doing an internship at the caisse? Find out how! (in French only, PDF, 152 KB) - This link will open in a new window..
Love a challenge? Desjardins has career opportunities to match your skills. Working or doing an internship at Desjardins can take you places!
Useful links
To learn more, go to: