Financial services for your tech company
Financial services for your tech company
Looking to start or grow a software publishing, data processing or computer systems design company? Get specialist support and personalized services to drive it forward.
Support and advice every step of the way
Need financing to build or grow a startup, invest in research and development (R&D), innovate or buy IT equipment? You can count on our team for guidance at every stage of your company's life cycle.
Get your tech startup off the ground
We can help you launch your business and provide the resources you need to turn your vision into reality.
Startup in Residence program

Tap into our network of partners and tech industry specialists to guide you through the startup and growth phases of your business.

Visa Business Freedom Solutions package

Benefit from a 3-in-1 financing solution designed specifically to meet the needs of small and very small businesses.

Learn more - about the Visa Business Freedom Solutions package

Créavenir

Are you 18 to 39? Looking to start your own business or have a business that's less than 3 years old? You can get financial assistance and mentoring through this program.
Market your project and grow your tech business
Our solutions make life easier so you can focus on marketing and growing your business, whatever the model.
Solutions for employers
Effectively manage and take care of your employees so you can attract and retain top talent.
See our flexible solutions
Special offer for tech companies
Sign up for both our payroll management and HR management solutions and get 50% off the fixed setup fees for the HR management solution.
Contact us to take advantage of this offer.
Montreal area: 514-356-5050, option 1
Elsewhere in Canada: 1-888-311-1616
Desjardins Online Brokerage
Access financial markets at any time and learn how to invest wisely with our free training and analysis tools.
Discover Desjardins Online Brokerage
Special offer for tech companies
When you transfer a brokerage account to Desjardins Online Brokerage, we'll reimburse the fees.
Simply contact us once your assets have been transferred:
1-866-873-7103
Monday to Friday: 8 AM to 5 PM
Cash flow management
Benefit from our effective solutions designed to help you maintain or generate more cash to fund projects.
Finance your tech business
Take advantage of our financing options for tech entrepreneurs across Canada.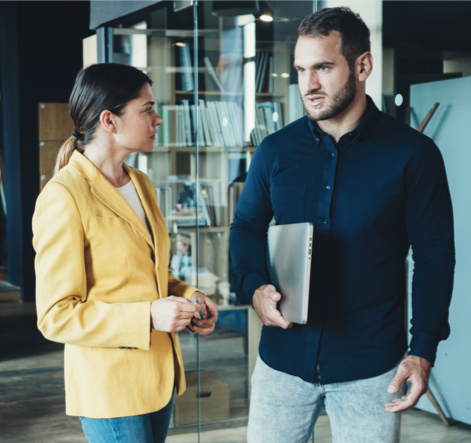 SaaS financing
Get financing that fits your recurring revenue model. Our team understands the industry and will analyze your file to identify your current and future needs.
This financing solution is available for different as-a-service models, including:
Software as a Service (SaaS)
Platform as a Service (PaaS)
Hardware as a Service (HaaS)
Infrastructure as a Service (IaaS)

Contact us for more information about this type of financing.
Our partners are here for you
Open a business account
Get your project off to a good start and make your day-to-day banking easier by opening a business account. Fill out the form online.
Eligible business sectors: software publishers (NAICS code 511211), video game publishers (NAICS code 511212), data processing, hosting and related services (NAICS code 518210), computer systems design and related services (NAICS code 541514), video game design and development services (NAICS code 541515).
Annual maximum reimbursement: $150 per person. Applies to asset transfers from a financial institution other than Desjardins. This offer cannot be combined with any other promotion.