Youth
Caisse scholarships
In keeping with our commitment to our youth, the caisse is proud to encourage young people in the pursuit of a post-secondary education. As such, we've earmarked $11,750 for vocational school, CEGEP and university scholarships.
Do you believe that your community involvement is above average or that you've shown determination in staying in school? Then go apply on the Desjardins scholarship platform by March 31, 2023.
The caisse's selection committee will review the applications. The winners will be invited to an event in the fall of 2023.
Good luck!
Read the contest rules (in French only, PDF, 215 KB) -
Desjardins Foundation scholarships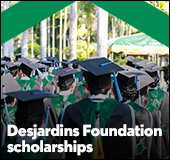 In addition to its scholarship program, every year the caisse contributes to the Desjardins Foundation, the private organization that awards the most scholarships in Quebec. The Foundation allows a large number of students to pursue a post-secondary education.
Did you know that as a member of the caisse, you're eligible for Desjardins Foundation scholarships?