Accelerate your digital transformation
Accelerate your business' digital transformation
Learn how we can help your company complete your digital shift.
Digital transformation campaign: a cooperative movement to support local businesses!
We're proud to be among a group of strategic partners chosen by the Quebec government to help Quebec businesses accelerate their digital transformation.
What is digital transformation for businesses?
Digital transformation is an ongoing process a business uses to incorporate new technologies into its practices. Examples of digital transformation include adding Web or mobile services. upgrading IT systems, and automating processes.
Why start a digital transformation?
Studies show that small and medium-sized enterprises (SME) who are well into their digital transformation perform better. They have an easier time adapting to rapidly changing environments and providing healthy and stimulating workspaces.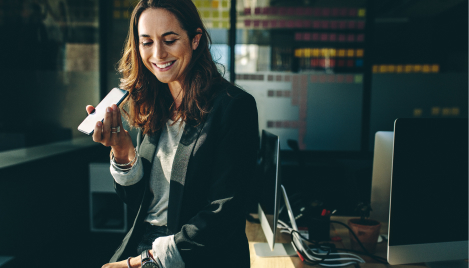 No matter what industry you're in or how large your company is, digital transformation is undeniably beneficial:
Stimulate growth and exports
Simplify day-to-day management, recruitment and employee retention
Improve profitability and productivity
Ensure competitiveness and business continuity
Find out more about your business' digital maturity
Assess your company's digital maturity for free with an online tool provided by the Business Development Bank of Canada (BDC). It will help you compare your digital maturity to other companies in your industry, identify areas of improvement and learn about best practices.
Ensure a successful digital transformation
To maximise the benefits of your business' digital transformation, it's important to plan carefully and find experts in the field. Here's how to start off on the right foot.
4 steps to a successful digital transformation
Assess your situation

Assess your business and staff to identify the areas for improvement.

Can you improve your core procedures?
Is your business strategy clear, official and up to date?
What's your business' level of digital maturity?
What are your needs and objectives in order of priority?

Plan your next steps

Speak with our experts to develop a complete and detailed digital plan adapted to your needs. Your strategy should address every aspect and step of your digital transformation.

Goals and key performance indicators
Investment plan
Rollout schedule
Training, change management and recruitment

Seek financing

There are several government programs and others financing solutions available to help you turn your vision into reality.

Feel free to contact us for tips and help choosing the solutions that best fit your plan and goals.

Measure and optimize your plan

Monitor your digital plan's key performance indicators throughout the implementation process.

Adjust as needed to ensure that your strategic goals stay the course and your plan remains efficient.
Get help starting your digital transformation
We're here to support and help you find the best resources to accelerate your business' digital transformation.
Specialized experts to help you
Get support from our trusted partners every step of the way.
Financing your digital transformation
Take a look at the various financing options available to support your digital transformation.
Find out more about these government grants
Financial products and services for the digital age
Get help starting your digital transformation
Avoid waiting on hold. We can call you when it's convenient.