Relief measures for personal members and clients
COVID-19
Relief measures for personal members and clients
In light of the COVID-19 pandemic, we can help you meet your financial obligations. We review assistance requests on a case-by-case basis.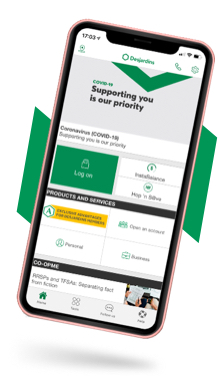 The following products and services may qualify for assistance:
Consumer loans and lines of credit (including automobile and durable goods financing)
Credit cards (including Accord D)
Emergency loans
Mortgages and home equity lines of credit (including Versatile lines of credit)
Assessing your financial situation
Assistance for loans, lines of credit and credit cards
If you're unable to make your payments even after having reviewed your budget and needs, contact us for assistance. Be aware that certain relief measures, if granted, might impact your credit report.
If you already missed some payments or think you can't make the next ones, call 1-800-CAISSES (1-800-224-7737) or contact your caisse to know your options.
Requesting assistance
To request financial assistance, you must be registered for AccèsD and fill out the form to determine your needs. Once you've submitted your request, we'll contact you to schedule an appointment.
If you're not registered for AccèsD
For more information, contact your caisse directly or call 1-800-CAISSES (1-800-224-7737).
For help with credit cards and Accord D financing, please call the number on the back of your card.
Contact us
We're here to answer all your questions.
Call us toll-free, from anywhere in Canada or the U.S.:
1-800-CAISSES (1-800-224-7737)
Or have us call you at the time of your choice.
Please note that our teams are experiencing a high volume of calls. We'll do our best to answer you as soon as possible.
1. Except for deliveries made via third-party services like Uber Eats, SkipTheDishes, Instacart and Amazon Flex.