Relief measures for personal members and clients
New measure for auto insurance clients.
We will be issuing refunds to our Canadian auto insurance clients. The refunds are for eligible personal and commercial insurance clients and cover the premium they pay for one month. No action is required on their part.
COVID-19
Relief measures for personal members and clients
In light of the COVID-19 pandemic, we've implemented special measures to help you meet your financial obligations.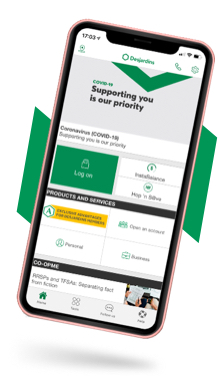 We're offering solutions for the following products and services:
Consumer loans and lines of credit
Contactless payment
Credit cards
Emergency loans
Insurance
Mortgages
Registered retirement income funds (RRIFs)
Members and clients who are eligible for relief measures
If you're in one of the following situations, we can help you:
You have contracted

COVID-19

and are unable to work due to the virus.
You're in quarantine because you have symptoms and are awaiting test results.
You're unable to go to work because of travel restrictions.
You lost your job or are temporarily laid off.
You're facing other issues closely related to

COVID-19

.
Requests are assessed on a case-by-case basis. If your request is accepted, any unpaid regular payments scheduled during the deferral period won't be deemed late and any information sent to Equifax and TransUnion will state that a payment deferral has been granted in the current context of the pandemic1.
Tips for easing financial stress
Here are some tips for managing your finances during this time:
Draw up a budget based on your current situation. Scale back on non-essential expenses.
Adjust any pre-authorized payments in

AccèsD

.
Use credit with caution. Avoid taking out cash advances on your credit card.
Payment deferrals for loans, lines of credit and credit cards
If you're unable to make your payments, you can defer your next payment for up to 6 months.
Products eligible for payment deferral
Credit cards
Mortgages
Versatile Lines of Credit (home equity lines of credit)
Accord D financing
Automobile and durable goods financing
Consumer loans and lines of credit
Learn more about payment deferrals
Resuming payments
When your deferral period ends, your payments will be due again. See the terms for resuming payments on your financing products.
Other measures in place to help you
Contact us
We're here to answer all your questions.
Call us toll-free, from anywhere in Canada or the U.S.:
1-800-CAISSES (1-800-224-7737)
Or have us call you at the time of your choice.

Please note that our teams are experiencing a high volume of calls. We'll do our best to answer you as soon as possible.
1. We have no control over the credit score determined by Equifax and TransUnion as these are independent agencies. You may have a different score with each agency, as they each have their own assessment criteria. Your credit score is calculated based on information Equifax and TransUnion receive from various lenders and service providers. To learn more, visit the Equifax or TransUnion website, both updated regularly.