Buying a second home
When you're buying a second home, the options are endless—a log cabin, a condo in the city, or a home base abroad. Whatever you're thinking, get off to a good start with our advice.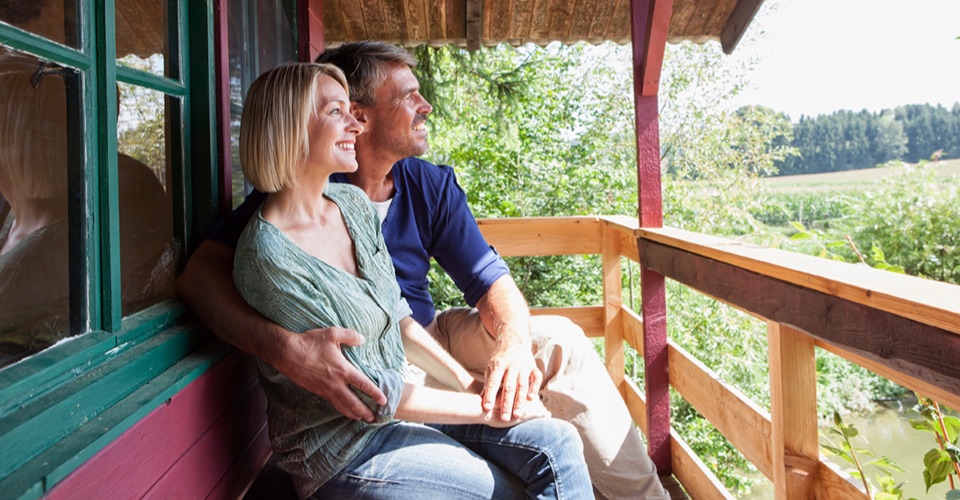 What counts as a second home?
Your second home is a home that you occupy for just part of the year, in addition to your main residence. Most of the time, your main residence is your home—the house or condo where you spend most of your time. Your secondary residence, or second home, is the one you use for weekends and vacations.
A lakeside cottage for family vacations

A condo in the city for the days you need to visit the office
Some points to consider before buying a second home
A second home is a major investment. Make sure you have a clear, realistic plan for the property. How often will you go there? What will you use it for? Establish your short- and long-term goals.
Questions to ask yourself
Do you see this second home as a place for friends and family only, or would you like to rent it out?
Will you go there often, or just occasionally?
How much time can you spend maintaining it?
Do you plan to move there permanently when you retire?
Do you think you will sell this property eventually, or pass it down to your children?
Your mortgage advisor can help you pin down your goals as well as guide you on how to secure financing.
Even if you're just starting to plan for a second home, it's a good idea to learn about any potential tax issues. That way, you can avoid unpleasant surprises. These issues may vary depending on how you use your second home or whether it's located in the US.
We recommend speaking with a tax specialist, real estate appraiser or financial planner to help you make an informed decision.
Examples of tax considerations
If you plan to rent your cottage, you'll need to declare your net rental income and pay taxes on it.

If you ever sell or transfer your property, 50% of the capital gains will be added to your taxable income for that year. There are, however, ways to reduce your tax bill. Read the article Thinking of selling your cottage?

Once you have a clear goal, make sure you can afford it. In addition to the down payment, consider all of the expenses that come with buying a new house, such as property taxes and insurance. Then add all of the maintenance and upkeep costs for your second home.
To calculate your expenses and see what you can afford, use our online budget tool.
Potential expenses
General upkeep and monitoring your residence when you're not there
Heating, electricity and internet, especially if you're planning to work there
Installation and maintenance of a septic tank or artesian well
Transportation costs (gas, plane tickets) and more frequent maintenance costs for your vehicle
Furniture and home goods
Renovations
We suggest you read the steps for first-time home buyers to refresh your memory before moving ahead. Although buying a second home has its peculiarities, the process is very similar to the one you experienced when buying your first home.
Need a helping hand for your projects? EspaceProprio

External link.

, a Desjardins initiative, gives you quick access to a network of home professionals who can help you with buying, selling, renovations and maintenance.
2 ways to finance your second home purchase
When you're buying a second home, you can use the equity on your main home. 1 This is called refinancing. You can borrow up to 80% of the determined value 2 of your home, minus any remaining mortgage or other loans guaranteed by it. For example, if you have a house with a determined value of $600,000 and you have $200,000 left on your mortgage, start by calculating 80% of $600,000, which is $480,000. Then subtract the $200,000 that you still owe. That leaves you with $280,000 you can borrow for your second home.
A good way to use the value of your home to finance a secondary residence is to use your Versatile Line of Credit, which is a home equity line of credit. You can use your Versatile Line of Credit to reborrow the amount you've already repaid (up to the available amount) in order to purchase a second home, such as a chalet.
2. Apply for a second mortgage
Another option for financing your second home is to apply for a second mortgage loan. 1 This would be a completely separate loan from the mortgage on your main home.
Want to buy a second home in the US?
We have branches in Florida to help you buy a house, condo or other property.
Rely on our cross-border mortgage financing experts
Leverage your Canadian credit score in the United States
Services available in English and French, in person or remotely
Discover the benefits of getting pre-approved
Get pre-approved to show you're a serious buyer and see how much you can borrow. No commitment is required, and you'll guarantee your rate for a fixed period.
See our insurance options
Meet with a mortgage represen­tative
Available to help you with all your mortgage needs
Available days, evenings and weekends
Able to meet you at your home, workplace or anywhere else you choose
Monday to Friday: 8 AM to 9 PM
Saturday: 9 AM to 6 PM
We can call you when it's convenient.
All financing subject to Desjardins credit approval. The determined value is set by Desjardins and corresponds to the market value or to other considered values.