Get 24/7 road­side assis­tance in Canada and the US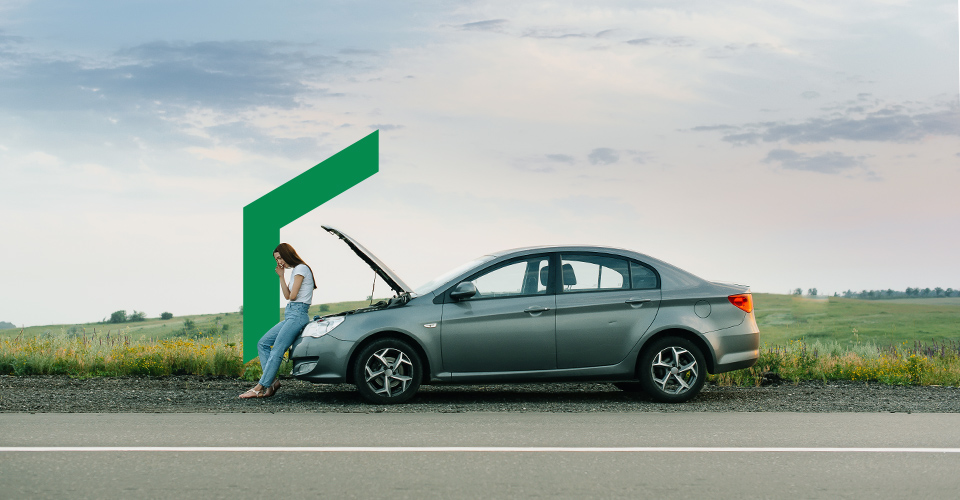 What road­side assis­tance covers

Call on us up to 5 times a year for 6 different roadside services. No need to have auto insurance with us, since road assistance is a standa­lone program.
Get your car towed to the nearest garage within a
10-km radius of the break­down.
Count on a profes­sional to come install your spare tire if you're losing air or get a flat.
On empty? Have some fuel delivered (fuel at your expense) and then go top off at the closest pump.
Need to jump start a dead battery? Have a profes­sional give you a boost.
Rely on this service to get your car door open if you lock your keys inside.
Stuck in the sand, mud or snow? Get your car pulled free and back on the road.
The benefits of Desjar­dins Road­side Assis­tance

Double protec­tion and extra peace of mind
For you: You're protected, even when you borrow someone else's car.
For your vehicle: No matter who's driving, your car's protec­ted too.
Except Alaska, Hawaii and Puerto Rico
Towing and break­down services
A number worth com­paring
How mu­ch does Desjar­­dins Road­­side Assistance cost?
Price to register multiple vehicles

2 vehicles: $120.74 per year
3 or 4 vehicles: $137.99 per year
Anyone driving cars you register can use 1 of the 5 service calls if there's a roadside emergency.
Free roadside assistance for youth
If you're under 25 years old, have an everyday account and car insurance with us, we offer free roadside assistance.
We automatically send you a membership card when you meet the requirements.3
Looking for car insurance?

See what coverage we offer and all the ways you can save. When you're ready, you can get a free quote online.
How much do towing services near me cost?
Prices vary considerably, depending on things like the tow company and the distance towed. In Ontario, average towing costs can range anywhere between $275 in Toronto and $400 in Brampton, for example.4 In Quebec, the base rate is about $170 for the first 10 kilometres.5
Can I use my roadside assistance for another car or for someone else?
Yes. The Desjardins Roadside Assistance program has double protection. It covers you when you drive another car or when someone else drives a car you've registered with us.
Do any of your credit cards come with roadside assistance?
Damage insurance products are underwritten and distributed by Desjardins General Insurance Inc., provider of automobile, property and business insurance.
The information on this page is provided for informational purposes only.
Certain conditions, limitations and exclusions may apply. This program may change or end at any time without notice.
The Desjardins Roadside Assistance program is administered by Assistel Inc. The program administrator reserves the right to refuse to cover or reimburse anyone who makes a false or fraudulent statement during enrolment or a service call.
Passenger vehicle only. Commercial vehicles, motor homes and other recreational vehicles (motorcycles, mopeds, snowmobiles, ATVs, campers, trailers or other equipment) are excluded.
You get a total of 5 service calls a year, whether you register 1 or more vehicles. All prices are before applicable taxes and subject to change without notice.
Eligibility requirements

Must be a resident of Quebec and a member of a caisse affiliated with the Fédération des caisses Desjardins du Québec
Must have auto insurance with Desjardins Insurance and own at least one vehicle that is on the insurance policy
Must be 25 or under on the insurance policy's effective date