Desjardins Mutual Assistance Funds
This solidarity-based product, in partnership with Groupe de recherche en animation et planification économique (GRAPE) and l'ACEF de Québec, aims to help people experiencing financial difficulty through various budget consulting services and emergency loans, if necessary.
Desjardins Microcredit to Businesses
The result of a partnership between the caisses of Québec-Est and Fonds d'emprunt Québec, Desjardins Microcredit to Businesses is a solidarity-based product that considerably improves access to credit for small businesses and self-employed workers. It helps people or groups that are not eligible for financing from traditional networks by giving them access to financing and guiding them in accomplishing their business project. A total of 2,330 jobs have been created and maintained over 12 years.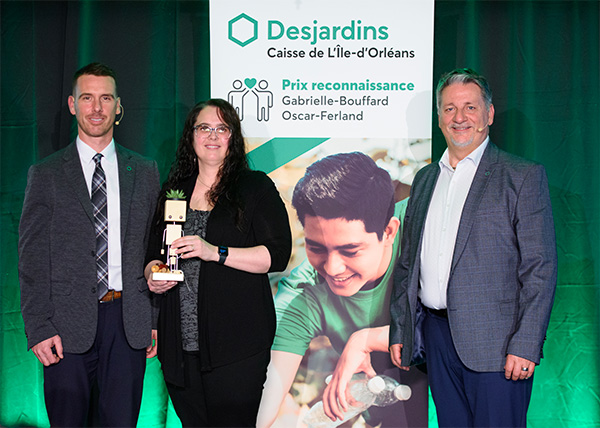 Gabrielle-Bouffard and Oscar-Ferland Recognition Award
Every year since 1999, Caisse Desjardins de L'Île-d'Orléans has recognized the involvement of a volunteer who has stood out for their cooperative, social or community work.
The contest is open to all caisse members over 18 who have volunteered on Île d'Orléans. The person cannot already have received the prize.
Read the contest rules (in French only, PDF, 228 KB)
The winner will be awarded $500 during the caisse's next annual general meeting.
The call for nominations ran from February 13 to March 10, 2023, and the caisse recognized the 2023 winner, Julie Hébert, during the annual general meeting on April 18, 2023.