Tax-Free Savings Account (TFSA)
Tax-Free Savings Account (TFSA)
Take the time to contribute
The Benefits of a Desjardins TFSA
TFSA contributions are a great way to save money tax-free for your short- and long-term goals.
Tax-free investment income
Tax-free withdrawals
Cumulative contributions
Get the most out of your TFSA
Good to know
The 2020 contribution limit is $6,000.
If you've already contributed to a TFSA and you withdraw from it during the year, the amount withdrawn will be added to your contribution room for the following year.
The cumulative limit is $69,500. This limit has increased every year since 2009 or since the year you turned 18, if you're a Canadian resident.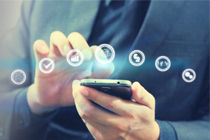 The TFSA is undoubtedly one of the best tax shelters and it's becoming increasingly popular with Canadians every year. The advantage that comes with a TFSA, is to earn tax-sheltered income through your investments.
See the FAQ

This link will open in a new window.