Your browser is configured to not accept cookies. Some features of the site are not available or will not work correctly without cookies. Also, some information presented might not apply to your situation.
See How to enable cookies
Microsoft Edge causes problems on AccèsD. To fix the issue, please install the most recent Windows update.
Mortgages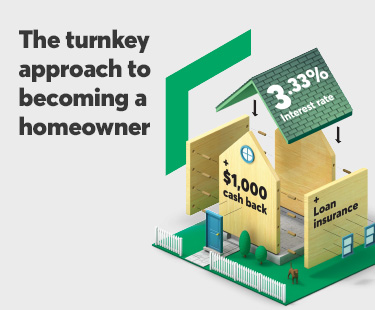 The turnkey approach to becoming a homeowner
Promotion of a mortgage rate of 3.33% plus $1,000 in cash back or 3.15% without cash back in effect until April 30, 2018. Available with any new 33-month, fixed-rate individual mortgage loan. Not applicable to business financing, or to personal financing for buildings of 5 units or more. The $1,000 cash back will be deposited in the chequing account linked to the mortgage loan. This offer may be cancelled without notice. This rate is subject to change without notice. This offer cannot be combined with any other promotion.
Tools
Mortgage products and solutions
Think green
Are you buying a new construction or making green renovations? Get cashback, freebies, great rates and many more advantages with the Green Homes Program.
Additional information
Desjardins Homebuyer's Guide - Ontario (PDF, 754 KB) - This link will open in a new window.
Summary D.I.Y. Homebuilders' Guide - Ontario (PDF, 909 KB) - This link will open in a new window.
Videos