Relief measures for business members and clients
New
Eligibility criteria expanded for businesses with payroll lower than $20,000.
Businesses with a payroll under $20,000 may apply.
COVID-19
Relief measures for Business members and clients
We know what a huge impact COVID-19 is having on businesses. It's making it tough to stay open, make payroll and keep cash on hand.
During these uncertain times, Desjardins Business and Desjardins Capital are here for you.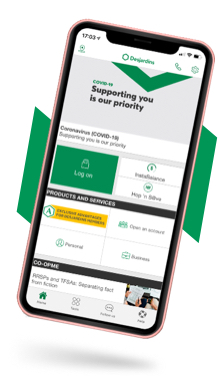 We're offering solutions for the following products:
Financing
Credit cards
Commercial vehicle insurance
Group insurance
The federal government is also offering interest-free loans of up to $40,000 to small businesses and not-for-profits.
Products the relief measures apply to
Because no two businesses are alike, we'll work to find solutions tailored to your situation. Additional measures may be announced as the situation develops.
Coordination with government programs
We're working closely with the federal and provincial governments to provide additional solutions and support during this challenging time. If you need more information, reach out to your account manager. They can work with you to find the right solution for your needs.
See all business support programs offered by the Government of Canada
Canada Emergency Business Account
This federal program provides interest-free loans of up to $40,000 to small businesses and not-for-profits experiencing temporary financial hardship to help cover their operating costs.
Terms of the loan
Interest-free until

December 31, 2022,

with no principal payments required
25% (up to $10,000) is forgivable if loan is repaid by

December 31, 2022

If loan is not repaid by December 31, 2022, option to set up a 3-year repayment term (principal + interest) or keep the loan with a 5% interest rate
Must be repaid by December 31, 2025
Eligibility
To qualify, your business must (among other requirements):
have been using Desjardins as your primary financial institution since March 1, 2020, or earlier and have a business chequing account (personal chequing accounts aren't eligible)
not be more than 90 days in default on any Desjardins financing payments before March 1, 2020
have federal tax registration
have paid up to $1.5 million in total payroll in 2019
If your business has a 2019 payroll lower than $20,000, you must have:
a Canada Revenue Agency business number
a 2018 and 2019 tax return
eligible non-deferrable expenses of between $40,000 and $1.5 million. These expenses can include debt, rent, property taxes, utilities, communications invoices, permits, insurance, etc.
Apply for a loan
You'll need:
your AccèsD Affaires login information (Note: Only primary administrators will be able to access and fill out the application.)
a phone number and email address where we can reach you
If your business payroll is between $20,000 and $1.5 million, you'll need your 2019 T4 Summary with your employer number to answer some questions from the government.
If your business payroll is lower than $20,000, you'll need your Income Tax and Benefit Return (T1) and proof of non-deferable-expenses.
Expenses will be subject to verification and audit by the Government of Canada.
Apply for the Canada Emergency Business Account - External link. This link will open in a new window.
Loan guarantees and co-lending programs for SMEs
The following support programs are for businesses experiencing temporary financial difficulty due to COVID-19. If you need access to cash to fund your operations or increase your working capital, we can help you figure out which program is best for you.
We're here for you
Our team is backed by an unparalleled network of experts in every field. We can also connect you with other businesses so you can help each other through this difficult time.
Contact us
Contact your account manager or call us toll-free at 1-888-233-2473 from anywhere in Canada or the U.S.
Or have us call you at the time of your choice.

Please note that our teams are experiencing a high volume of calls. We'll do our best to answer you as soon as possible.