Scholarships
Scholarships for post-secondary studies. In all programs of study.
Desjardins Foundation offers scholarships to all post-secondary students in all disciplines. Do you stand out for your determination to stay in school or community involvement? Apply today.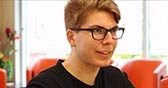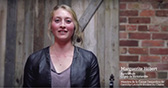 The application period for 2018 scholarships is now closed.
IMPORTANT DATES
January 15 to February 19, 2018
Call for applications
Read the information provided and gather the documents required.
Fill out and send in the application form along with the documents required.
March to June 2018
Applications processed and scholarship recipients selected
At the end of June, keep an eye on your email to learn if you've been selected.
July and August 2018
Scholarship recipients confirmed
Fill out the acceptance form.
Send in the required documents.
October 2018
Scholarships awarded
Learn more about scholarships (FAQ).
Need a financial boost for your studies? Apply!
Selection criteria
Candidates are selected according to the following criteria:
Commitment to their studies
Community involvement (cooperative, sports, community, cultural, student, and business activities, etc.)
Financial need
Taxes
As a general rule, scholarships are not taxable. They do, however, count when applying for certain tax benefits.
Desjardins Foundation employees and managers, and officers and members of Desjardins Foundation scholarship selection committees, as well as members of their immediate family (brothers, sisters, children, mother and father), their legal or common-law spouse and persons who reside with them, are not eligible for Desjardins Foundation scholarships.