2022 Desjardins Group Annual Report
Message from Guy Cormier, president and CEO
Committed and connected to our members and clients
Being united is what I believe makes us so adaptable and focused on always doing what's best for our members and clients. I greatly appreciate what our teams have done. Thanks to what we accomplished, our financial performance meets expectations.
As inflation climbs, Desjardins is committed to being a leader. We're actively promoting economic activity and regional development from coast to coast through the Momentum Fund, the GoodSpark Fund and the GoodSpark Grants.
We were also able to support thousands of young people through our Together For Our Youth program, as well as through scholarships for all levels of post-secondary education, regardless of their field of study.
This year, Desjardins took concrete action to speed up the transition to a low-carbon economy. Take our new responsible investment solutions, for example, or how we added a performance indicator to our environmental, social and governance assessment. We were also actively involved in various committees on the subject and made training on sustainable development and responsible finance mandatory for all Desjardins employees.
Lastly, I'd like to underscore the exceptional dedication of our directors and employees. And thank you to our 7.5 million members and clients for choosing Desjardins.
Speech by Guy Cormier
Learn all about our biggest accomplishments from 2022 during the speech by our president and CEO.
Social and cooperative responsibility
GoodSpark Fund

$250 million for community development from 2016 through 2024

Climate ambition

Zero carbon emission by 2040

RI leader in Canada

Approximately 70 responsible investment solutions
Financial results
Assets of

$407.1 billion

as at December 31, 2022

Surplus earnings of

$2,050 million
Providing guidance to our cooperative
2022 was filled with big achievements. Here's the team that provided direction and inspiration to our 58,774 employees throughout the past year.
Management Committee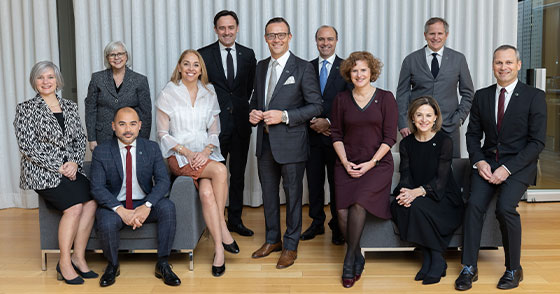 Front row: Valérie Lavoie, Di-Thai Hua, Isabelle Garon, Guy Cormier, Nathalie Larue, Marie-Huguette Cormier and Denis Dubois.
Back row: Johanne Duhaime, Réal Bellemare, Jean-Yves Bourgeois and Alain Leprohon.
Not pictured: Francine Champoux and Éric Lachaîne.
Board of Directors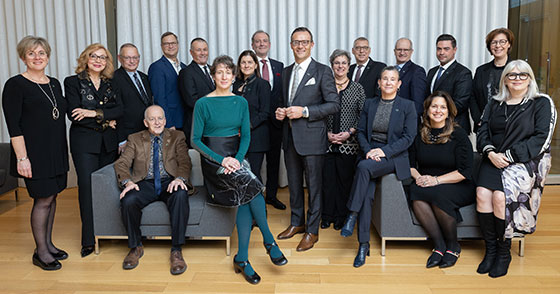 Front row: Denis Latulippe, Patricia-Ann Sarrazin-Sullivan, Guy Cormier, Lisa Baillargeon, Marie-Josée Lamothe and Geneviève Côté.
Back row: Nadine Groulx, Paula Parhon, André Grenier, Stéphane Trottier, Serge Rousseau, Maryse Lapierre, Michel Magnan, Johanne Charbonneau, Louis Babineau, Dominique Jodoin, Jordan Baril-Furino and Kathleen Bilodeau.
Not pictured: Luc Bachand and Neil Hawthorn.
Feel free to send us your questions, comments and suggestions.
For more information on non generally accepted accounting principles (GAAP) financial measures and supplemental financial measures, see "Non-GAAP financial measures and other financial measures" section of Desjardins Group's 2022 annual MD&A which is available on the SEDAR website at www.sedar.com (under the Fédération des caisses Desjardins du Québec profile). Non-GAAP financial measures used by Desjardins Group, and which do not have a standardized definition, are not directly comparable to similar measures used by other companies, and may not be directly comparable to any GAAP measures.
In accordance with the guideline on Capital Adequacy Guideline - Financial services cooperatives issued by the AMF.