Desjar­dins Agents
You can count on your agent to listen and provide personalized advice for your auto, home and life insurance needs.
Bundle your home and auto insurance with us and save up to 35% or $690 on your home insurance.1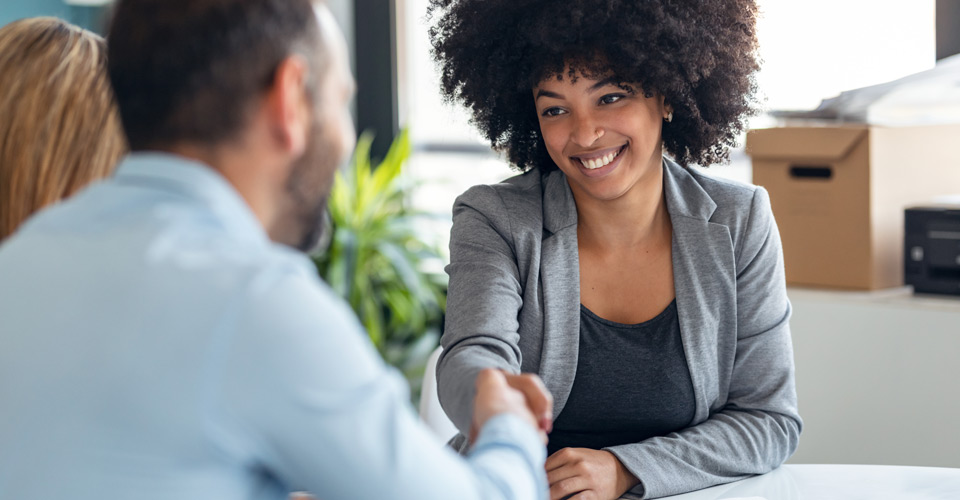 Get an online insurance quote
Answer a few questions to start your online home or auto insurance quote.
Contact your local Desjardins Agent
Contact a Desjardins Agent near you for all your insurance needs.
Already have car or home insurance with us?
A vast network at your service
Our Desjardins Agents are active in Ontario, Alberta and New Brunswick and can provide you with a full range of insurance and financial services. We care about working closely with you and helping you find the coverage that meets your unique needs.
Over 750,000 households insured2
2nd largest general insurer in Canada4
A close relation­ship built on trust
Do you need advice about insuring your home or belongings, or about planning your retirement? Maybe you have a recreational vehicle or cottage, or you're putting your heart and soul into building a business.
Whatever your situation, we're here to help you with your insurance and financial needs. Our goal is to make these decisions easy for you so you can enjoy peace of mind.
Advantages of working with a local Desjardins Agent
We believe that understanding your needs, being available and listening to you is the best way to make sure you have the right coverage.
We have in-depth knowledge of the market so we can answer your questions clearly, in person or remotely.
Protect the things that are dear to you so you can focus on what really matters: enjoying every one of life's moments and milestones.
Persona­lized advice and plan
We take time to thoroughly assess your situation. We can help ensure that your coverage fits your needs and you won't have any surprises if you make a claim.
Your Desjardins Agent won't disappear once you choose your coverage. They'll help you make a claim or adjust your plan—anytime!
The right coverage at the right price
Avoid paying for more insurance than you need. Your personalized plan includes all discounts you qualify for.
A compre­hensive range of products
Talk to your local Desjardins agent about your best coverage options and financial strategy.
Choose car insurance designed to suit your needs and those of your family and see if you're eligible for any discounts or combined offers.
Insure your home or cottage and contents with us. Let us guide you and offer coverage options and discounts that fit your lifestyle.
Protect your belongings, clothes and furniture in case of accidents or damage caused by fire or bad weather, for example.
Insure your personal property and any parts of your unit that aren't covered by your condo corporation's insurance policy.
Opt for property and liability insurance that's tailored to your industry and your business needs.
Life and health insurance
Count on us to help you understand your life, health and disability insurance options and the benefits of each one.
Financial services and retirement planning
Trust us with your financial needs. Together, we'll make a plan and start building your future!
Your interest rate is guaranteed for up to 90 days and terms are flexible so you can pay off your loan more quickly and without penalties.
Explore additional coverage
Round out your insurance coverage with these complementary products. Contact your Desjardins Agent for more information. 
Count on us for support during the recovery process should you fall victim to identity theft. Also get up to $25,000 to help with covered expenses. This coverage is also known as Identity theft or Identity fraud insurance.
Identity restoration coverage5
How much does identity fraud insurance cost?
You
Your partner
Family members living with you
How long is the service available?
For up to 12 months following identity theft
What expenses are covered?
Cost to get copies of your credit records
Fees when reapplying for credit or loans denied due to fraudulent activity
Legal fees for civil or criminal proceedings and representation fees in the event of a government audit
Notary and filing fees to correct your identity and credit records
Phone, postage and shipping fees
Lost wages and expenses for child, elder and infirm care (up to $5,000)
Other fees (up to $1,000)
Personal umbrella liability policy5
Enjoy additional protection on top of the civil liability insurance included in your homeowners policy. This policy affords you greater liability limits in the case of a lawsuit.
How much does the personal umbrella liability policy cost?
Needs vary, so please talk to your agent to get a quote. Liability coverage is added to your existing policy and is sold in increments of $1 million.
You
Any other insured person named on your policy
How long is the policy valid?
Your finances and current insurance would not cover damages and interest in a lawsuit for accidental damage to someone else's property
You drive in the US or travel abroad often
Safeguard the people and possessions that matter most. Round out your home insurance coverage with both life and disability insurance.
Your homeowners insurance policy is a great first step toward avoiding the hassles that come with accidents or losses, but it's only one part of the picture. Build a triangle of protection around your home and family by adding life and disability insurance to your coverage. You can apply for coverage in case of sudden death, illness, injury or accident.
Backed by Desjardins, Canada's largest cooperative financial group
Your Desjardins Agent has the support of Canada's leading cooperative financial group. You can count on a solid network that has strong community values and the backing of Desjardins. You'll have access to a wide range of products and services, including a variety of responsible products that comply with sustainable development practices.
Canada's best-performing bank, according to The Banker6
Ranked among Corporate Knights' Best 50 Corporate Citizens in Canada7
We're there for you, anytime anywhere
Download the Desjardins Insurance Home-Auto app
Protect your home with Alert
Help keep your home safe with the AlertTM program, which includes the DIY home alarm system by Roost®. And save up to 10% on your home insurance when you also subscribe to Roost's monitoring service.
It pays to drive safe with Ajusto
Sign up for the Ajusto program and get 10% off your auto insurance for the first 6 months!
Just answer a few questions to start your auto insurance quote and sign up for Ajusto.
Get a quote with a local Desjardins Agent
Speak to an Agent to learn more about Ajusto.
What's the difference between insurance brokers and Desjardins Agents?
Insurance brokers sell products by a variety of insurers. Desjardins Agents offer only Desjardins products. Because they have in-depth knowledge of the policies, they can provide you with a truly tailor-made solution.
How do I become a Desjardins Agent?
Automobile, property and business insurance products are underwritten by Certas Home and Auto Insurance Company. Life insurance and living benefits products are underwritten by Desjardins Financial Security Life Assurance Company.
Certain conditions, limitations and exclusions may apply.
Savings are based on each client's individual profile. Savings and discounts are subject to eligibility conditions. Rates and discounts are subject to change without notice. The terms and conditions of the coverages described are set out in the insurance policy, which always prevails.
Ajusto is underwritten by Certas Home and Auto Insurance Company.
Ajusto® is a registered trademark of Desjardins General Insurance Inc., used under licence. The discount and the personalized premium do not apply to certain endorsements or additional coverages.
RadarTM and AlertTM are trademarks of Desjardins General Insurance Group Inc., used under licence.
The Roost word mark and logo are trademarks of Roost, Inc., and have been registered in the United States and in certain other jurisdictions.
Apple and the Apple logo are trademarks of Apple Inc., registered in the U.S. and other countries. App Store is a trademark of Apple Inc.
Google Play and the Google Play logo are trademarks of Google LLC.
Privacy and Security
Desjardins Agents sell the products of the following companies, referred to as "Desjardins Agent partners":

Some of your personal information may be used by your Desjardins Agent in order to offer you insurance and financial products that suit your needs. Therefore, your identification information and some information about your interaction with your Desjardins Agent may be shared with Desjardins Agent partners.
Desjardins®, Desjardins Insurance®, all trademarks containing the word Desjardins, as well as related logos are trademarks of the Fédération des caisses Desjardins du Québec, used under licence.
Offer is available to Ontario residents only. Homeowners can save up to 35%, condo owners, up to 15% and tenants, up to 10%. On average, homeowners save 20% or $500.
According to 2021 data.
According to 2015 data.
According to 2020 data.
This is a general description of our personal identity fraud and umbrella liability coverages. It is not a statement of contract. All coverages are subject to policy provisions and minimum requirements as outlined in your primary insurance policy. 
According to The Banker's 2019 ranking of Canada's leading financial institutions.
According to the Corporate Knights annual ranking of the best 50 corporate citizens in Canada from 2012-2121.
Digital proof of auto insurance is generally accepted in Alberta, New Brunswick, Newfoundland and Labrador, the Northwest Territories, Nova Scotia, Ontario, Prince Edward Island, Quebec, the Yukon and in most American states. When you're driving, keep a paper copy with you in case your phone isn't charged and you're asked to show proof of insurance.