Youth
Scholarship program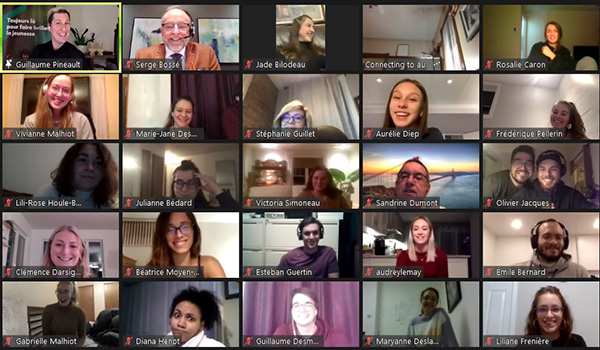 Online event hosted by Guillaume Pineault on October 13, 2020
Online event hosted by Guillaume Pineault on October 13, 2020.
The application period for our 2020-2021 scholarship program ran from August 10 to October 4, 2020, and is now over. The winners were revealed at an online event hosted by Guillaume Pineault on Tuesday, October 13, 2020.
The caisse awarded 71 scholarships with a total value of $83,500. Here are the winners:
Vocational level: 10 scholarships of $750 each
Audrey Choquette, Samantha Claing, Guillaume Dion, Guillaume Forgues, Anya Galipeau, Rosalie Grégoire, Mélanie Lafleur, Kim Lapointe, Alexis Potvin and Samuel Racine
College level: 30 scholarships of $1,000 each
Juliette Auger, Thalia Bélanger, Josiane Bernier, Roxanne Bilodeau, Camylle Blanchette, Léa Bonneau, Raphaël Choquette, Guillaume Desmarais, Chloé Dufour-Desrosiers, Floriane Domont-Duplessis, Angelina Kathya Fernandes, Xavier Gagnon, Marc-Antoine Girard, Noemy Houle, Sarah Lachapelle, Morgane Lafleur, Laurence Lapointe, Ariane Lavallée, Rébecca Levasseur, Alyssa Lévesque, Vincent Lévesque, Audrey Loquet, Jade Lussier, Félix Noiseux, Marie-Lou Paquette-Sansoucy, Catherine Perron, Rosalie Petit, Daphnée Poirier, Chloé Simoneau and Émy Tétreault
University level: 30 scholarships of $1,500 each
Solveig Beauregard, Éléonore Beauregard, Félix Bédard, Pierre-Olivier Benoit, Eugénie Blanchet-Lemieux, Charlotte Braley, Jean-Philippe Camirand, Philippe Carignan, Zachary Chicoine, Samuel Croteau, Clémence Darsigny, Cloé Daunais-Millette, Olivier Daviau, Charles Godin, Lili-Rose Houle-Beaudoin, Jacob Labonté, Frédérike Labrecque, Antoine Laflamme, Raphaël Landry, Mathieu Leblanc, Julia L'Écuyer, Sophie Lemonde, Rosemarie Letendre, Charlotte Michon, Cédric Mignault, Laurie-Anne Mongrain, Élodie Pincince, Mégan Proulx-Désautels, Alexandre Richard and Félicia Vallières
One $1,000 scholarship to reward one student's commitment and dedication was awarded to college student Catherine Maheu.
Read the scholarship program rules (in French only, PDF, 192 KB) - This link will open in a new window..
The caisse also contributes to the Desjardins Foundation, which awards over a half million dollars in scholarships each year.
Thank you for participating!
Finance Lab: a project for students and schools
We are pleased to have the local PolyCaisse student caisse, now called the Finance Lab, at Polyvalente Hyacinthe-Delorme in Saint-Hyacinthe.
Benefits for students:
Enhancing their knowledge and enabling them to gain hands-on experience in terms of learning about cooperation, economics, finance and administration
Providing them with the experience of a group project for which they are responsible
Personal Finance: I'm in Charge® financial education program
Are you between 16 and 25? Do you have questions about your finances?
Personal Finance: I'm in Charge® is just what you're looking for!
You'll learn more about things that matter to you, such as:
how budgeting work
things to consider when living in an apartment
the labour market: your rights and responsibilities
how to get the most out of credit
how to save
Thanks to the collaboration of the caisse, free 2-hour group workshops are offered by community partners or educational institutions of the region.
We take a dynamic approach that gets you involved. You'll interact through a variety of hands-on activities and exercises.
Want to find out more? Just contact one of our regional partners.
Youth advisors
With the goal of meeting the needs of its young members, Caisse Desjardins de la Région de Saint-Hyacinthe has a team of 7 advisors exclusively dedicated to serving young members, whether they're students or new to the job market.



Geneviève Gauthier
Personal Finance Advisor - Youth team
(on maternity leave)
They are exclusively dedicated to young members in school as well as those who've recently joined the workforce.
They provide the following services to young members:
Recommend the best financing tools to meet their cash flow needs to pay for their studies or make a major purchase.
Recommend the best savings strategies to fulfill a dream, take a trip or save for a their first home
Develop a repayment strategy and solutions to lower the debt burden and build a solid credit file
Provide information on how to protect and grow their assets, as well as help them better understand the world of finance.
Young Intern Director Program
To pave the way for new officers, the caisse has been participating for several years now in the Young Intern Director Program. An internship on the Board of Directors gives you a unique opportunity to gain valuable experience.
To learn more, see Young Intern Director Program.
Mutual Funds Representative for Desjardins Financial Services Firm Inc.