Youth
Desjardins has a long tradition of involvement with local youth. This is why Caisse Desjardins du Lac-Memphrémagog is so enthusiastic about the massive concerted effort being made by all Desjardins components toward youth outreach.
Your caisse is proud to support the following projects or organizations:
Young Intern Director Program
An exceptional opportunity to take part in the life of the biggest financial cooperative in Canada!
Are you between 18 and 30 years old and looking for a great experience as a director at your caisse? It's possible!
The Young Intern Director Program gives you the chance to complete a 2-year practical internship on a caisse board of directors. By working with the board, you'll become familiar with the role of a director (without voting rights) by:
participating in meetings and discussions related to the caisse and its orientations
proposing new ideas to serve younger members
representing members of the community
getting the caisse more involved in the community
helping to build and implement a strategic plan and business plan
honing your strategic skills and knowledge through a specific training program
A unique experience
The Young Intern Director Program gives you a chance to experience something new and build a network of personal and professional contacts in the largest cooperative financial group in Canada. It also helps you prepare to be an elected director on a board of directors.
Eligibility
You must:
Internship conditions
The internship is a volunteer position, therefore, it is unpaid. However, you will receive a certificate recognizing the experience gained at Caisse Desjardins du Lac-Memphrémagog.
Duration
2 years. Start: late August 28, 2019
Application deadline
Fill out the online application form - External link. This link will open in a new window.by June 10, 2019, at 11:59 p.m.
For more information, contact:
Émilie Cottineau
Cooperation and Communications Advisor
Phone: 819-843-3328, ext. 7208287
By email - This link will open in a new window.
Personal Finance: I'm in Charge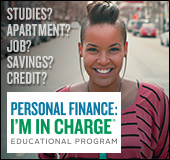 Financial education program
Are you between 16 and 25? Do you have questions about your finances?
Personal Finance: I'm in ChargeTM is a made-to-measure program just for you!
To learn more about things that matter to you:
Budget: how does it work?
Apartment: keys things to consider
Job market: rights and responsibilities
Credit: what you need to know
Saving: Is it possible?
With the caisse's collaboration, 2 hour workshops are offered free of charge by community partners or local schools.
They use a dynamic and interactive approach as well as a variety of exercises and activities.
To learn more, contact one of our local partners.
Encouraging students to stay in school
The Memphrémagog MRC school drop-out rate is alarmingly high, which worries the entire community. Caisse Desjardins du Lac-Memphrémagog established a fund to create programs that encourage students to stay in school. We spoke with a group of caisse members to confirm this as a priority.
Since 2007, the caisse has paid $487,500 into the fund.
See our cooperative difference brochure (PDF, 389 KB) - This link will open in a new window..
Trademark of Fédération des caisses Desjardins du Québec