Youth
Desjardins has a long tradition of involvement with local youth. This is why Caisse Desjardins du Sud de la Chaudière is so enthusiastic about the massive concerted effort being made by all Desjardins components toward youth outreach.
Grants to help you pursue your projects and passions
Between January 1 and December 31, 2021, get a chance to win 1 of 6 grants of $500 each.
Learn more about the contest.
"
Ma première maison

" contest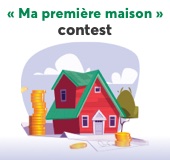 Run for a chance to win a kit with a 7-inch Google Nest Hub, a mini Bluetooth speaker and a luxurious blanket for a total value of $200.
The perfect ensemble for a cozy day in your first home!
How to enter
Members and non-members between the ages of 18 and 30 must make an appointment during the contest period to meet a Caisse Desjardins du Sud de la Chaudière advisor, who can help them reach their savings goal in order to buy their first home.
Read the contest rules (in French only, PDF, 73 KB) - This link will open in a new window.
Draw: December 3, 2021
School caisse
To introduce children to good savings habits at a very young age, the Caisse Desjardins du Sud de la Chaudière actively supports the school caisse educational service.
Go to the school caisse site - External link. This link will open in a new window..
Finance Lab
A Finance Lab is a mini Desjardins caisse in a high school. It is managed and administered uniquely by volunteer students—a great student-school initiative! The caisse services are intended exclusively for the students and their associations. The Finance Lab operates under the authority and supervision of a local Desjardins caisse.
Learn more about the Finance Lab.
Youth advisors
New to the job market or in graduate school? Considering buying your first home or taking a trip around the world?
Youth advisors can provide you with sound advice to help you make the most of financial services available to help you reach your goals and become fully independent.
Text or call 418-228-8824 to make an appointment.


Mutual Funds Representative for Desjardins Financial Services Firm Inc.