One mortgage, one tree: Over 1,200 trees have been planted already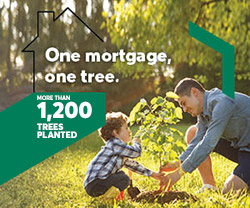 Last March, the caisses in the Haute-Yamaska region launched the One mortgage, one tree initiative. As a result, over 1,200 trees have already been planted in the region!
About 9 months ago, we announced we were taking action to improve the quality of life of the people in our community through this simple but meaningful gesture for the environment.
The whole community will benefit from this new contribution to sustainable development.