Equifax sign-up procedure
Here are 5 easy steps to sign up for the Equifax credit monitoring service.
Step 1
Log in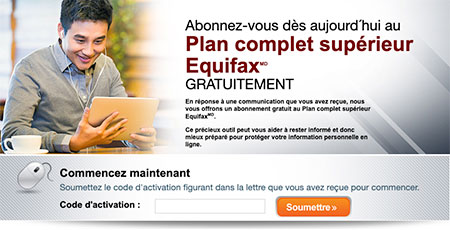 ---
Step 2
Fill out the Personal Information form
Fill out the Personal Information form.

If you've lived at your current address for less than 2 years, select No and enter your previous address.

Click the checkbox next to I accept and agree to the Terms of Use and Privacy Policy.
Click Continue.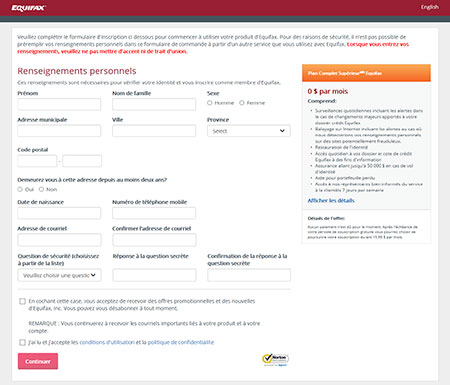 ---
Step 3
Fill out the Account Creation form
Fill out the fields on the Account Creation form.
Click the checkbox next to I accept and agree to the Terms of Use and Privacy Policy.
Click Continue.
Note
You may need to answer some identity verification questions. Answer them and click Continue.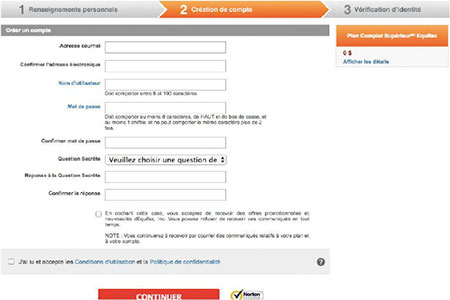 If you don't have an email, you can use the address of a friend or relative. Equifax allows the same email to be used for up to 4 different people.
If you use someone else's email, they'll receive your alerts from Equifax and will need to inform you of them. You can also access your credit file at any time on the Equifax website.
---
Step 4
Submit your order
This is where you'll see that the plan is free for the next 60 months, and then $15.95 per month after that. You'll get a notice 1 month before the free service ends. You will not be billed automatically.
Click Submit order.

---
Step 5
How to check the order status
If the sign-up process was successfully completed
Once you've successfully signed up on the Equifax website, you'll get 2 emails:
A confirmation email saying your order has been filled
A welcome email
If the sign-up process fails
If the process doesn't work, you can try signing up again later.
If none of these attempts work, contact Equifax at 1-800-871-3250.