Desjardins online and remote services
Desjardins online and remote services
We at Desjardins are always here for you even when we can't be physically present. Learn how to do your banking securely from the comfort of your home.
Take care of your everyday transactions without having to travel
Did you know that you could manage your finances independently without getting off your couch?
You can do most of your banking and access Desjardins services remotely:
Online and mobile services
AccèsD (Internet and mobile) is the simplest, quickest and most practical way to manage your finances anytime, anywhere. You can do a lot with AccèsD:
Transfer money
Pay bills
Receive direct deposits
Deposit cheques (mobile app only)
Place stop payments
View statements and manage your accounts
You can also go into AccèsD to get an overview of your insurance policies and make investments.
Log in to AccèsD with the mobile app
or on your computer
See the features of
AccèsD

Internet and mobile
---
Learn how to use online services
---
Frequently asked questions
Stay on the alert
During the COVID-19 crisis, as at all times, it is important to remain vigilant against fraudulent emails and texts and adopt fraud prevention best practices.
Phone services
Automated
For those of you who don't have access to a computer or who prefer doing their banking by phone, Desjardins offers AccèsD Telephone 24/7 for the following transactions:
Checking your account balance
Paying bills
Repaying your line of credit
Transferring money
Reach the automated phone service by calling:
1-800-CAISSES (1-800-224-7737)
Toll-free, from anywhere in Canada or the US
To use automated services, you need:
Your Desjardins Access Card number
A 3-digit

AccèsD

Telephone password
If you don't have a 3-digit code yet, you can get one by speaking to an advisor first at 1-800-CAISSES.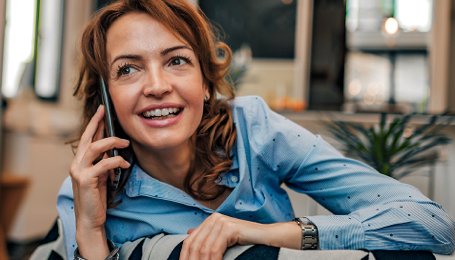 Advisor assistance
You can also get phone assistance from a Desjardins advisor on the following products and services:
AccèsD

Internet and mobile
Everyday banking
Credit cards
Investment and financing
Insurance
Given the high volume of calls we're experiencing due to the COVID-19 situation, please use our online or automated platforms for your transactions.
Services by email
On
AccèsD
If you use AccèsD, you can contact your caisse via your secure message box (Messages).
If you don't use AccèsD, you can send us general inquiries via our secure contact form.
Contact an advisor at your caisse
Certain advisors can be reached by email. Go to the Our team section on your caisse's website, then click Contact by email under the advisor's phone number.
Our measures to support you during the pandemic
In response to the COVID-19 pandemic, we've implemented several relief measures to help you meet your financial obligations.
® The Interac and Interac Flash logos are trademarks of Interac Inc. Used under licence.
AccèsD

is a free service that's available to anyone who belongs to a Desjardins caisse or has a Desjardins credit or prepaid card.
The service is available at all times except Sunday between 2:00 a.m. and 6:00 a.m.