AccèsD Affaires
Efficient, flexible and secure
Videos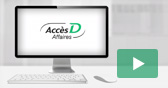 Added on April 20, 2018
Desjardins mobile services - AccèsD Affaires (1 min 20 s)
Animated demonstration of AccèsD Affaires on the Desjardins mobile services app, available on your tablet or mobile phone. Download it for free. It's easy to use, secure and you can use it anytime, anywhere.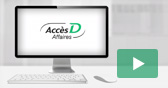 Added on June 23, 2015
Discover the new AccèsD Affaires (2 min 27 s)
Animated demonstration of the new version of AccèsD Affaires: improved logon procedure, new overview page and simplified, secure navigation between AccèsD Affaires and Desjardins.com without having to log off.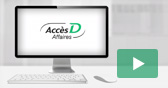 Added on December 16, 2013
AccèsD Affaires overview (3 min 30 s)
An overview of the business transactions you can make on AccèsD Affaires.
Required equipment
Operating system (Windows, Mac OS X)
AccèsD Affaires supports the most recent versions of Windows and Mac OS X.
Like Microsoft, our support for Windows Vista ended on April 11, 2017. For more information, please visit the Microsoft website.
Supported web browsers
To use AccèsD Affaires, your browser must have 128-bit encryption protocol.
Note that your browser must be configured to accept cookies.
Procedure for enabling and disabling cookies
Cookies are strings of characters containing information about your activity on a website. The server sends this information to the browser when you visit or revisit the site.
There are two types of cookies: session cookies and persistent cookies. Session cookies are not stored on your hard drive, but are stored in the memory for the duration of your session to identify you, and deleted when you log off AccèsD. Persistent cookies are stored on your hard drive and recalled at your next visit. Cookies are text files and cannot be used to infect a computer with a virus or any other threatening data.
To use AccèsD, your browser must accept cookies. If your browser is not set up this way, click the link that corresponds to your browser to change the settings.
How to enable JavaScript
JavaScript is a widely-used Internet programming language. However, its use may be blocked by your network or browser.
If you access a site from a secure network, it may block JavaScript. In this case, contact your network administrator for more information.
Though JavaScript may be supported by the network, your browser may still reject it. Here's how to correct this:
If the version of your browser is older than 4.0 (or if you use another browser), JavaScript may be disabled. You should update your browser.
If your browser is more recent, version 4.0 and higher, JavaScript may have been manually disabled. In this case, follow this procedure to enable JavaScript:
Explorer
Select Tools, then Internet Options.
Click the Security tab.
Click Default Level.
Double-click OK to return to your browser.
Firefox Mozilla
Select Options from the Tools menu.
Click the Content tab.
Check Enable JavaScript and Enable Java.
Click Ok.
Safari
Select Preferences from the Safari menu.
Choose the Security tab.
Check Enable Java and Enable JavaScript from Web Features.
Available 24 hours a day, 7 days a week (except Sundays from 2:00 a.m. to 6:00 a.m. (ET).
Intermediate offer: If you have one or more business accounts managed by one or more users, to take full advantage of the service
Optimum offer: For up-to-date account consolidation and international services