Remote Deposit Capture (with scanner)
Remote Deposit Capture
Make deposits remotely and securely by scanner.
Simplify your cash management.
Businesses with a low volume of cheque deposits can use the Desjardins Mobile deposit service.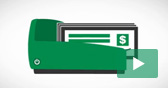 Added on June 17, 2015
Discover Remote Deposit Capture (1 min 41 s)
This video provides a short summary of our Remote Deposit Capture service.
It's a dynamic, animated presentation of the advantages of using the service.
To better understand how the service works, the video gives an overview of the steps involved.
Features
An innovative service that allows you to deposit your cheques remotely to get the job done faster.
You can use it to deposit cheques in Canadian currency drawn on Canadian financial institutions.
Scanner identifies cheques that don't meet standards.
Deposits are made to account instantaneously.
Available 24 hours a day, 7 days a week (except Sundays, 2:00 a.m. to 6:00 a.m. ET).
Meets the highest security standards.
Advantages
No need to go to the caisse to make cheque deposits.
Faster access to funds.
Easy item search, if required.
Clear and comprehensive reports make cash management easier.
Requirements
Be registered for AccèsD Affaires.
Use one of the 3 following Digital Check®scanners:

TS240-50-IJ (model recommended by Desjardins): Scans 50 documents per minute, up to 100 documents at a time.
CX30-IJ: Single-feed scanner, for lower volume.
TS240-100-IJ: For higher volume, up to 100-item feeder, scans 100 documents per minute.

Sign the user agreement.
See Paystation scanner and supply prices.
Fees